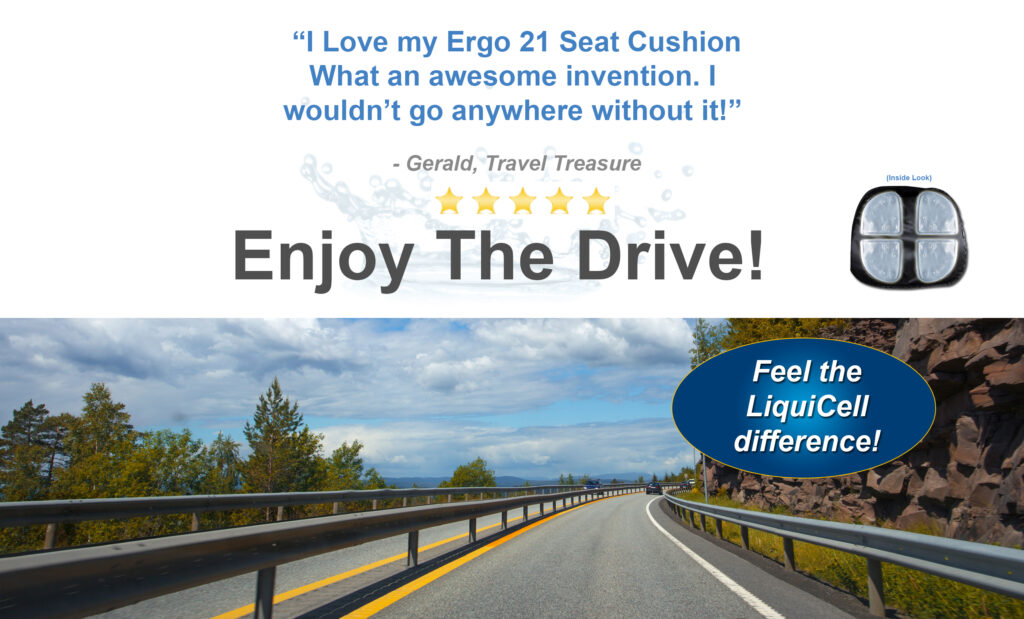 In Search of the Perfect Seat Cushion
LiquiCell is better that Gel, Foam and Air. Ultra-thin cells contain liquid that's in constant motion allowing your body to glide and float. This highly advanced technology provides relief by equalizing the pressure put on your tailbone and legs while sitting and eliminates muscle fatigue
and soreness.
See Ergo21 Amazing Short Video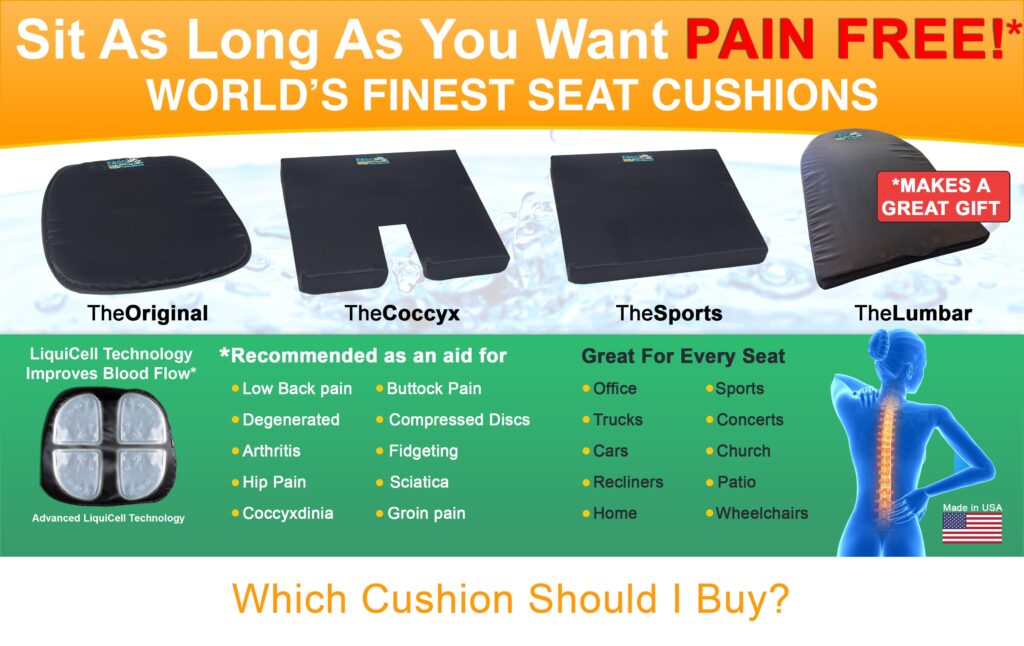 See Video Below- Which Cushion should I buy
Perpendicular Pressure is Relieved – Good Posture is Maintained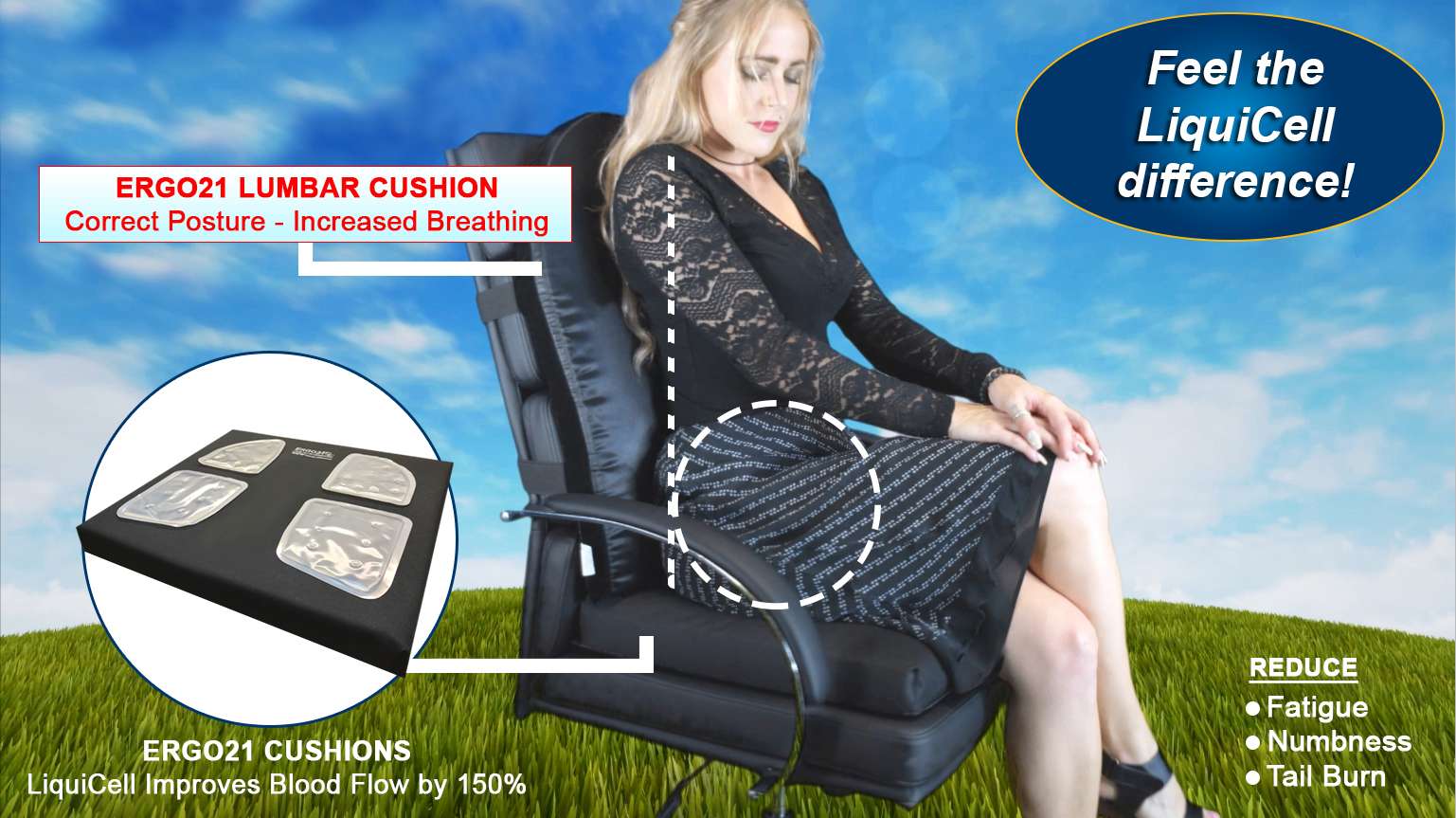 The Most Technologically Advanced Cushions Engineered for Comfort – Better than Gel Seat Cushions, Foam Seat Cushions and Air Cushions!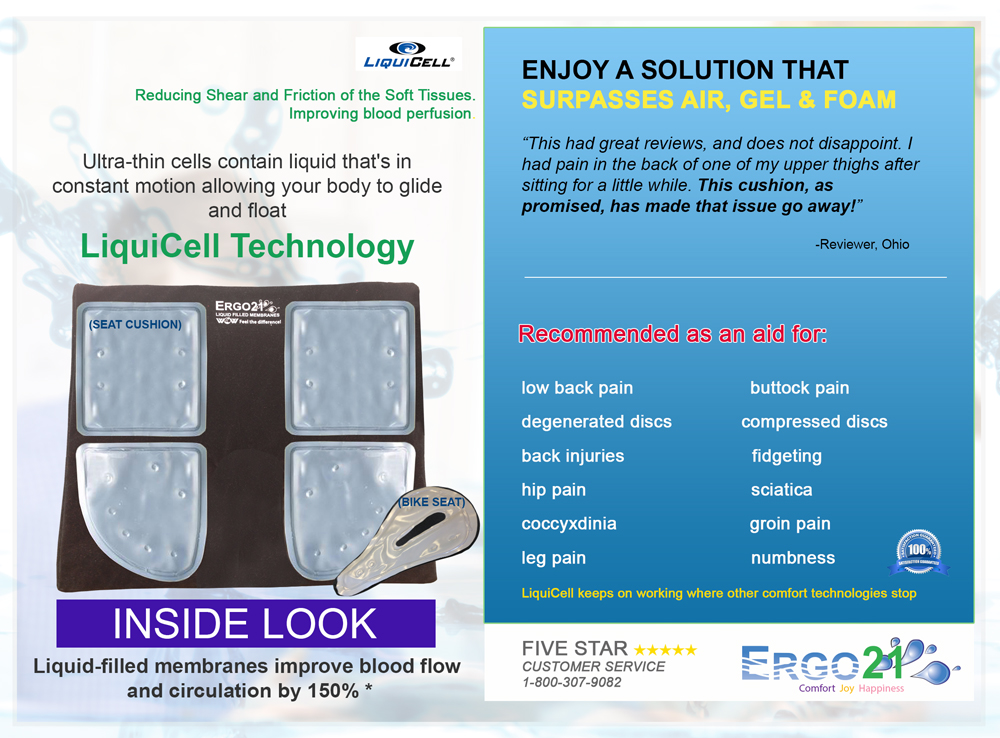 LiquiCell keeps on working long after the point where Gel, Foam or Air technologies stop
ERGO21 SEAT CUSHION REVIEWS
***** This is the cushion I've been looking for the past two years
I purchased this seat cushion for my truck. We are full-time RVers and travel days can get pretty long. I've tried several cushions and it was turning into a Goldilocks and the Three Bears situation… "this one's too thick," or "this one's too soft," or "this one cuts off the circulation in my legs at the front of the seat." This seat cushion has addressed all those issues and meets my needs perfectly.
By Rob L – Verified Purchase
***** Best seat – Uber Driver
If you struggle to sit in a car or at a desk due to sciatica or low back pain, this cushion is for you. As an Uber driver with over 2,200 rides, this product is simply the best of the best for assuring positive blood flow over the course of a long night at the wheel.
By Robert Mcclain – Verified Purchase
*****No More Butt Pain
Love this cushion in my car. I drive a 2015 Hyundai Sonata and I've always felt that my lower back was being unsupported with the regular seating. I would always be adjusting every few weeks to fix my posture but was never satisfied in my driving position. I got one of these and put it on my car seat and wow. I feel like I'm sitting on a cloud. It supports my lower tail bone and my butt perfectly. It feels that cars should feel this way naturally but they don't.
B JH Leon – Amazon Verified Purchase
*****Makes Long Drives Comfortable
"Got this and the lumbar cushion for my wife's car. She likes it. Plan to get another set for my mother's car."
By Ds Trit – Verified Purchase
*****I have Sciatica and Spinal Stenosis
I really like this seat cushion, after reading reviews ; I ordered , not disappointed at all ….most seat cushions make me sweat after seating awhile; can be embarrassing to say the least …..I have sciatica and Spinal stenosis & was operated on for herniated discs …..so I have problems with hard bottom chairs or too soft , Helps me when driving any distance …very comfortable …..I sent for a 2nd set , now have one set for car , one for bottom for my leather recliner …..
By Louise Jani Chapman – Verified Purchase
ERGO21 has a whole line of cushions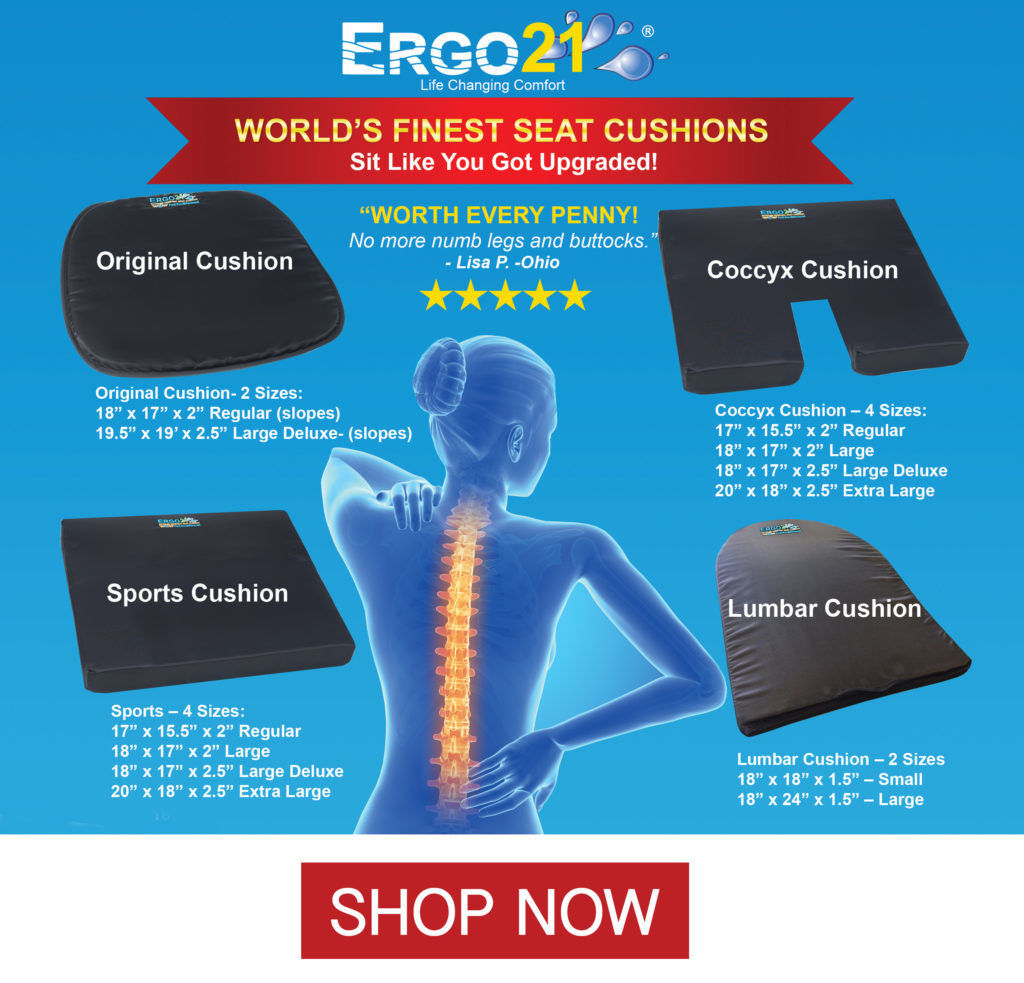 What LiquiCell Will Do for You…
Using an innovative combination of a low viscosity fluid and strategically placed seal points that control the flow of liquid, LiquiCell reduces discomfort associated with prolonged contact between the body and an object. By equalizing perpendicular pressure at the point of contact (thus reducing pressure), soft tissue compression is greatly reduced thereby significantly reducing skin friction and soft tissue shear stress.
Medical and scientific evidence prove that while gel, foams and air do provide some relief of discomfort through perpendicular pressure reduction, they do not protect against the harmful effects of friction and shear stress, two of the most influential factors related to discomfort, pain and trauma (pressure sores)
 Watch the LiquiCell Technology Video

LiquiCell vs Gel Seat Cushion, Foam Seat Cushion & Air Cushion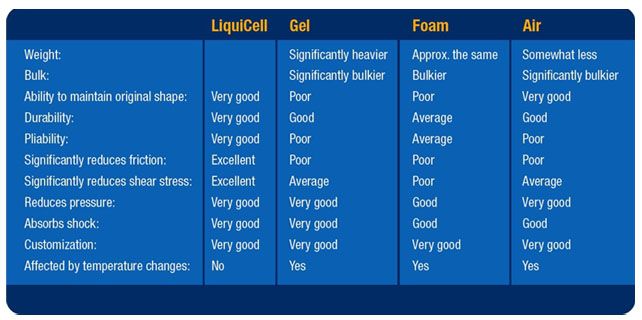 Clearly The World's Best 

(Gel, Foam & Air are all inferior in side-by-side comparisions.)
Long Term Blood Perfusion When Sitting on Three Different Cushioning Materials"
Goossens, Delft University of Technology, March 2006
Delft University conducted a study to determine the affect of various cushioning materials on blood perfusion (flow) over time. The aim of the study was to compare blood perfusion in the tissue in a live setting as opposed to a laboratory to get a more accurate reflection of real life conditions. The results of the study show that from the initial point of contact to some time later, LiquiCell actually improves blood perfusion by 150%, whereas gel and foam show a decrease in blood perfusion.
ADDITIONAL RESEARCH AND RESOURCE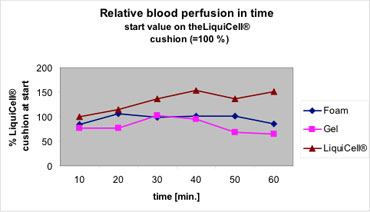 Anatomy of a Perfect Seat Cushion
A seat cushion should not restrict your movements or cut off circulation. By carefully combining the proper density of polyurethane foam and a layer of LiquiCell Membranes to maintain blood flow under the tail bone, hot spots and vertical pressure on the sitting bones is virtually none.
In addition we use the highest quality fabric that's durable, long lasting and cooling. Watch our
video about LiquiCell Technology below.
Our Ergo21 Extreme Comfort Seat Cushion surely has the WOW factor and will put a smile on your face!
Thin Liquid-filled membranes improve blood flow and circulation by 150%

–

Enjoy a solution that surpasses air, gel & foam

An aid for buttock pain, hip pain, groin pain, leg pain, sciatica and other issues involving sitting. Reduce fatigue, numbness & tail burn

–

Enjoy sitting for longer periods of time.

Ultra-thin cells contain liquid that's in constant motion allowing your body to glide and float

Our customers use our amazing seat cushions while watching TV, driving cars or trucks, on their wheelchairs, and on their office chairs for sitting comfort

LiquiCell keeps on working long after the point where other comfort technologies stop
NO OTHER CUSHION COMES CLOSE TO ERGO21 COMFORT SEAT CUSHION! YOU DEFINITELY GET WHAT YOU PAY FOR –
IT'S SIMPLY AMAZING!
– Mark Rodgers

Ask Doctor Jo Reviewed ERGO21 Sport Cushion
Buy Combo Pack and Save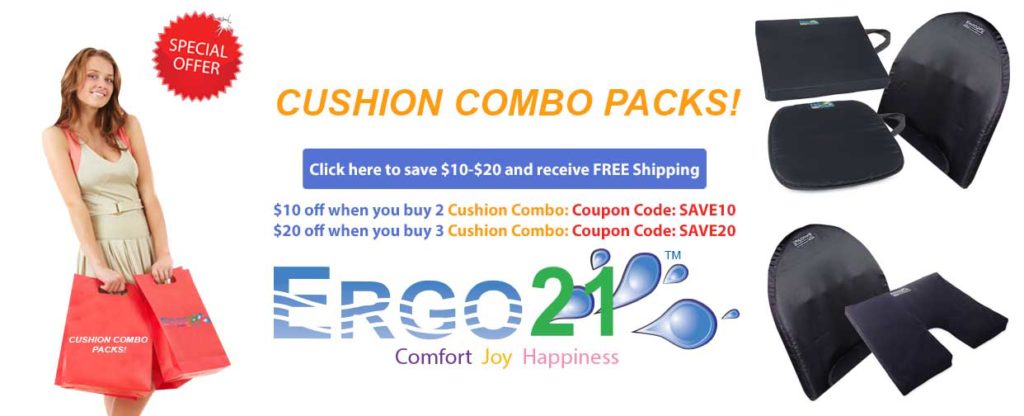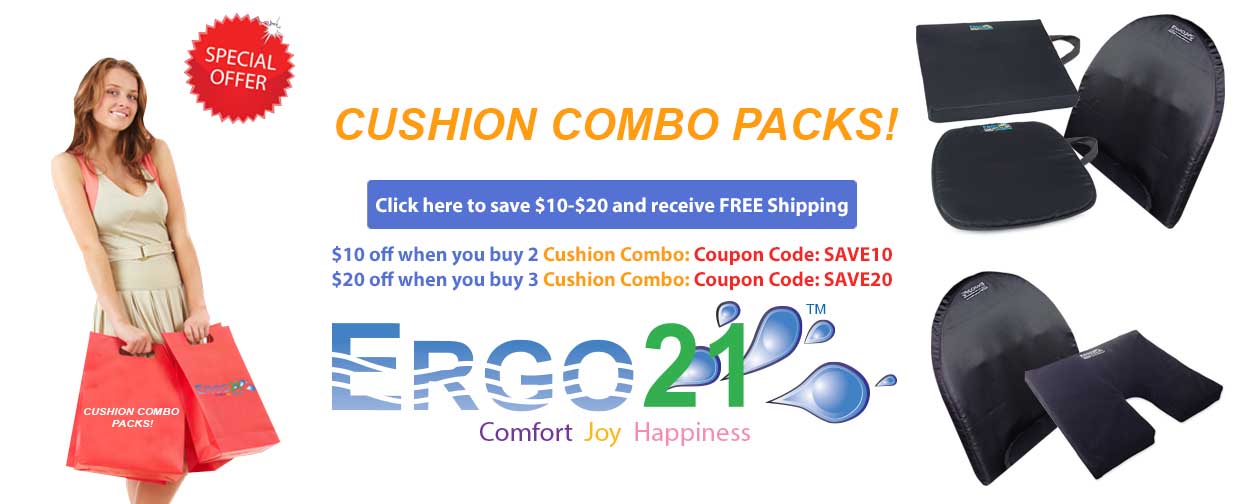 Available in Different Sizes: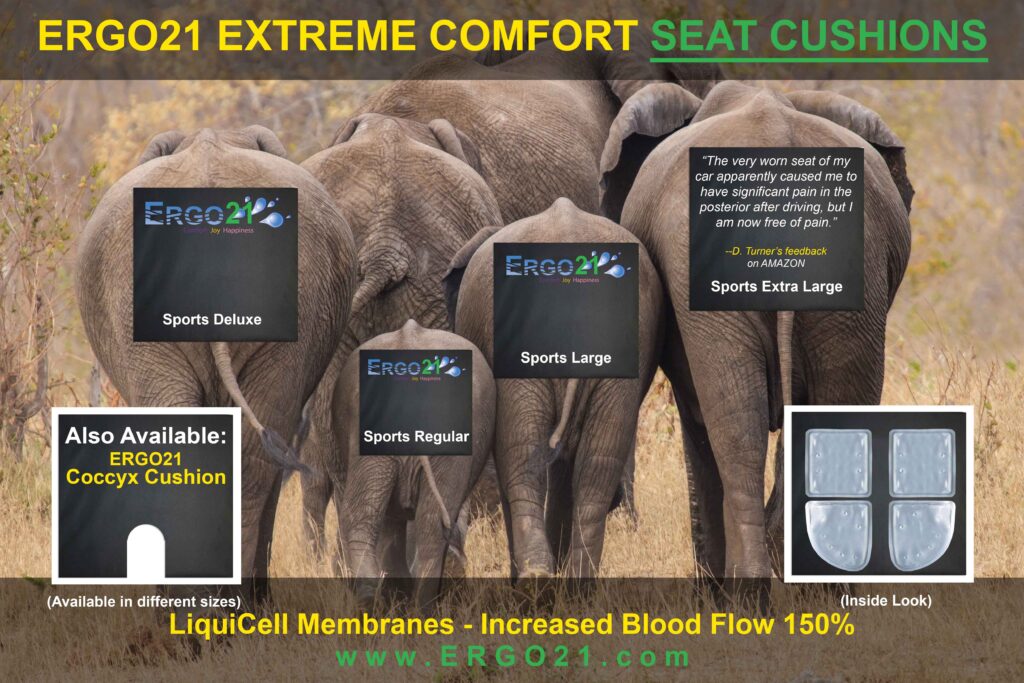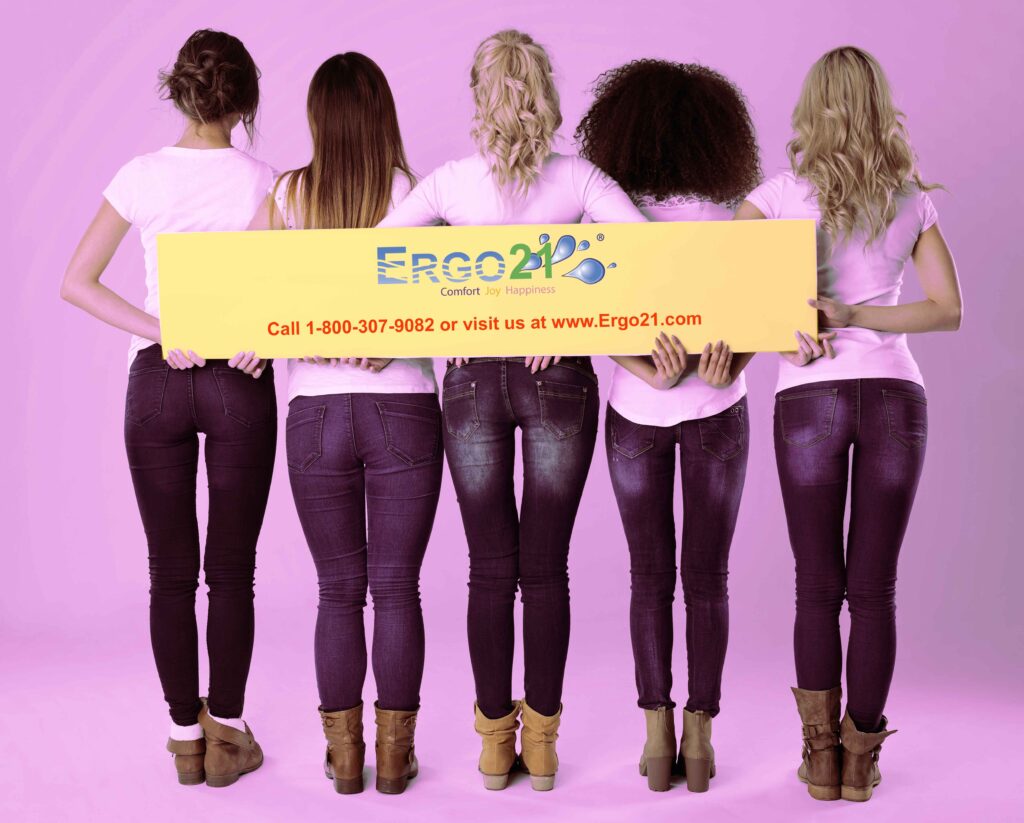 Steve Gambhir – Designer of Ergo 21 Extreme Comfort Seat Cushions – Finally a way to sit or drive for hours in comfort!
Steve's Interests:
Yoga & Meditation
Long walks by the beach
Member of and BNI International
Took acting, comedy and improv at the Orange Coast College for 3 years
Performed at 250 shows at various clubs including Irvine Improv
Acted in one independent movie – but did not want to quit his day job ☺
Currently writing for Health & Fitness blog at
Lifechangingtip.org
Steve Gambhir is also a Health and Wellness Coach who is passionate about food, nutrition and general fitness. Steve is dedicated to helping everyone he meets live happier, healthier, more fulfilling lives.
In addition to being active in his southern California community of Newport Beach, Steve also founded
Ergo21
"Tools for Health and Fitness," and the blog
Lifechangingtip.org
which provides guidelines for healthy living.
His Ergo21 Extreme Comfort Seat Cushions and Insoles are available at
Ergo21
and have helped thousands to be on their feet all day long and sit in comfort for long periods of time.
His following articles have helped many regain their health and have gotten a great response from doctors and health professionals:
FOOD COMBINATION – WHY YOUR STOMACH HURTS AFTER YOU EAT…
HOW I LOST 32 POUNDS…
Ergo 21 – Shakti Inc.
4 Park Newport, Suite 4
Newport Beach, CA 92660
(Below the clock tower, next to the Park Newport Market)
949-975-8219
Mobile: 949-795-9066

Latest posts by Steve Gambhir (see all)