We have all been in this situation, a long plane ride or a train journey through the Canadian Rockies where our butts slowly get numb and we have that aching lower back and neck pain.
We want to move around and try to wiggle gently not trying to disturb our fellow passenger on the airplane seats that are getting smaller and smaller with almost no leg room.
We now arrive at our destination business conference or the vacation getaway all tense and aching. You don't have to endure this painful scenario anymore. There is help in the form of Ergo21 Travel Seat Cushion.

The Most Technologically Advanced Cushion Engineered for Comfort
* Four Thin LiquiCell, Liquid-filled membranes improve blood flow and circulation by 150% – Enjoy a solution that surpasses air, gel & foam
* An aid for buttock pain, hip pain, groin pain, leg pain, sciatica and other issues involving sitting. Reduce fatigue, numbness & tail burn – Enjoy sitting for longer periods of time.
* Ultra-thin cells contain liquid that's in constant motion allowing your body to glide and float
* Use on planes, trains, buses, autos, or even take it to the movies or restaurants and concerts
* LiquiCell keeps on working long after the point where other comfort technologies stop
What LiquiCell Will Do for You…
LiquiCell is a technology that protects skin tissues from being stretched and torn. Ultra-thin cells contain liquid that's in constant motion allowing your body to glide and float. What this means to you is instant comfort, reduction and elimination of numbness, fidgeting, and tail burn.


After a long flight, you will appreciate that deserved vacation or a business trip where you are not in pain or have a stiff neck on arrival.
LiquiCell membranes equalize perpendicular pressure by keeping the blood flowing under the sitting bones and thighs. No more fidgeting, numbness, leg pain. Also eliminates tension in the neck because of the reduced pressure on the seating surface.
Ergo21 Travel Cushion is Loved by Pilots too
5.0 out of 5 stars I have found the perfect cushion at last By Tino Phuthego
Perfectly ideal for crew aircraft seats!!! What can I say, I have found the perfect cushion at last!!! As a pilot I sit a lot at work….my recent back discomfort is gone thanks to this ingenious cushion!!
5.0 out of 5 stars Works as advertised By Amazon Customer
First one of the best companies I have dealt with for customer satisfaction. The designer spoke with me personally to help me find the cushions that would work best for my situation. I have had three back surgeries and both hips rebuilt. Sitting comfortably is not an easy activity. I am 56 years old, female, tall with a healthy weight and some arthritis.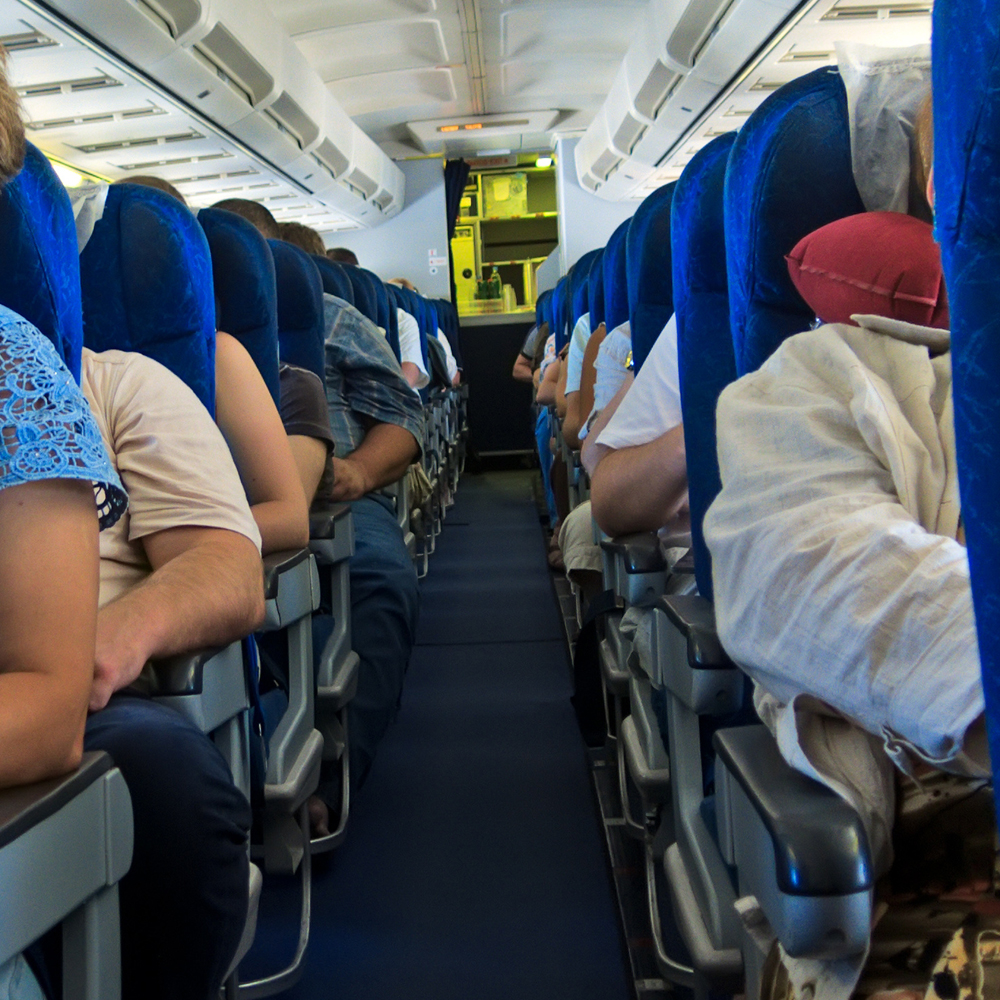 I now own three of these cushions. The original is perfect for hard wood or folding metal chairs. I use it when going to weekly quilting groups on the folding chairs. Before using this cushion I was limited in the time I could spend with the group due to the folding chairs and resultant pain. Now, no problem. The angled front that gives a narrower profile is amazingly helpful with the cushion's effectiveness.
The lumbar cushion stays in the car. Do not be dismayed by the shape. You will not see a convex area for your lumbar area as with most cushions, and I was skeptical when I saw the shape. That is until I tried it in my truck. Most comfortable and effective lumbar support in a vehicle I have used. The gel cushions inside mold to where your lumbar section is on your back. Because of that the lumbar support is not to high/low, too much arch or too little. Plus it decreases the vibration from the road to your lower back. I have used it going 30 hours to Texas and back. Good road test.
The Ergo21 Travel cushion I use for plane flights. The vibration plus hard seats made flying an endurance test. Sitting on the travel cushion made a major difference. No, my legs still hit the seat in front of me but at least my behind is happier. The decrease in transferred vibration to my hips and lower back was impressive. Plus the folding feature makes it easy to tuck into a carry on and use on the airport seats when your flight is delayed, again. Visit their website. It really helps to understand the construction of this product.

Sit in Extreme Comfort – All Day Long – For Hours!
Leave behind your tired and achy backside with the Ergo21 Extreme Comfort Seat Cushion! With the power of advanced LiquiCell Technology, Ergo21 seat cushion makes it possible for you to sit for hours upon hours without aches or soreness.

Anatomy of a Perfect Seat Cushion
A seat cushion should not restrict your movements or cut off circulation. By carefully combining the proper density of polyurethane foam and a layer of LiquiCell Membranes to maintain blood flow under the tail bone, hot spots and vertical pressure on the sitting bones is virtually none. In addition, we use the highest quality fabric that's durable, long lasting and cooling.
Watch the video about LiquiCell Technology below
Read this heartfelt review Chris Howe wrote on Amazon
5.0 out of 5 stars Your Hips and Back will Thank You By Chris Howe Verified Purchase
In preparation for a couple of long long road trips, I started doing some research on seat cushions to help reduce driver fatigue. I was surprised by the range of products available, all promising relief and comfort–but the reviews for the Ergo 21 Original Seat Cushion were compelling.
After reading all of the reviews of this product, and of the Sports version and the Coccyx version, I bought two the Original seat cushions, one for me, and one for my husband, specifically for use in our vehicles (they fit fine in the driver's and front passenger's seat of the Honda Odyssey) with the intent of trying the other versions if we liked the Original.
We tried them out last week during a Spring Break trip and after 14 hours of driving from Utah to California, I can add my endorsement to this wonderful product. The key is not in the thickness of the pad or the firmness of the foam–when you first sit on the pad, you might not think there's anything remarkable about it. But after hours of driving, my hips and back and legs were surprisingly pain free. I can only assume it really was due to this liquicell technology. It's very gratifying to purchase a product that actually delivers the desired results. We are careful consumers and appreciate quality, performance, and value, and the Ergo 21 seat cushion was a worthwhile investment. We are going to take them on an upcoming plane trip next week. In fact, these cushions will be coming with us whenever we travel. I just ordered the shoe inserts for me and my husband yesterday from the Ergo21 website and a few hours later I received a call from Steve, the developer of these products, personally thanking me for my order. Wow, that just doesn't happen very often in today's world. He told me that the lumbar cushion was just released (available on Amazon) and that there is a larger version of the sleep pad coming out next month. We also will be buying the Sport cushion for our daughter to use in her wheelchair. If you or someone you love suffers from chronic pain which is exacerbated by extended periods of sitting–you really owe it to yourself and to your loved one to give these products a try.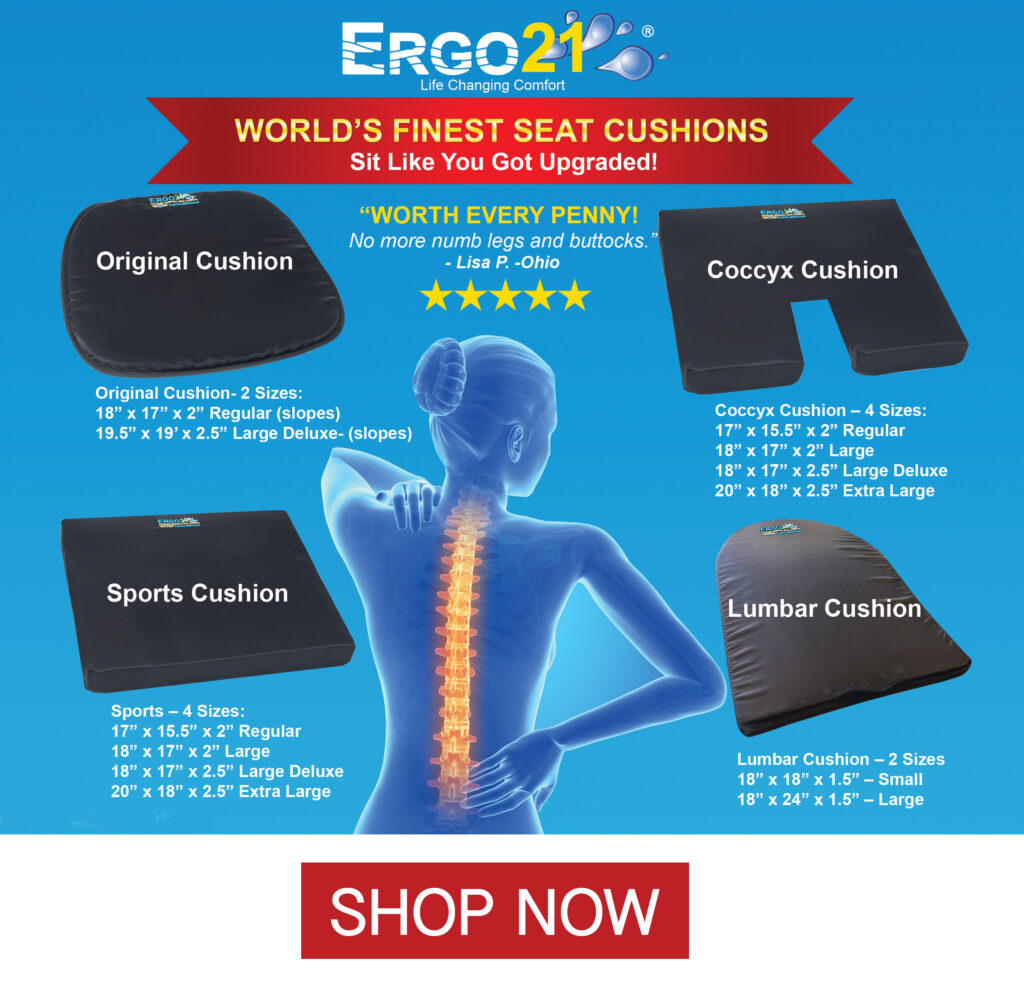 Steve Gambhir – Designer of Ergo 21 Extreme Comfort Seat Cushions – Finally a way to sit or drive for hours in comfort!
Steve's Interests:
Yoga & Meditation
Long walks by the beach
Member of and BNI International
Took acting, comedy and improv at the Orange Coast College for 3 years
Performed at 250 shows at various clubs including Irvine Improv
Acted in one independent movie – but did not want to quit his day job ☺
Currently writing for Health & Fitness blog at
Lifechangingtip.org
Steve Gambhir is also a Health and Wellness Coach who is passionate about food, nutrition and general fitness. Steve is dedicated to helping everyone he meets live happier, healthier, more fulfilling lives.
In addition to being active in his southern California community of Newport Beach, Steve also founded
Ergo21
"Tools for Health and Fitness," and the blog
Lifechangingtip.org
which provides guidelines for healthy living.
His Ergo21 Extreme Comfort Seat Cushions and Insoles are available at
Ergo21
and have helped thousands to be on their feet all day long and sit in comfort for long periods of time.
His following articles have helped many regain their health and have gotten a great response from doctors and health professionals:
FOOD COMBINATION – WHY YOUR STOMACH HURTS AFTER YOU EAT…
HOW I LOST 32 POUNDS…
Ergo 21 – Shakti Inc.
4 Park Newport, Suite 4
Newport Beach, CA 92660
(Below the clock tower, next to the Park Newport Market)
949-975-8219
Mobile: 949-795-9066

Latest posts by Steve Gambhir (see all)