Over 150% improvement in circulation
Reduces soreness in tailbone & back
Sit in comfort everywere you go

---
---
LiquiCell vs Gel, Foam & Air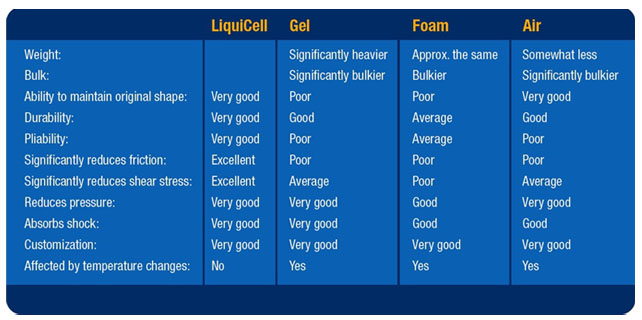 Clearly The World's Best

(Gel, Foam & Air are all inferior in side-by-side comparisions.)
---
Long Term Blood Perfusion When Sitting on Three Different Cushioning Materials"
Goossens, Delft University of Technology, March 2006
Delft University conducted a study to determine the affect of various cushioning materials on blood perfusion (flow) over time. The aim of the study was to compare blood perfusion in the tissue in a live setting as opposed to a laboratory to get a more accurate reflection of real life conditions. The results of the study show that from the initial point of contact to some time later, LiquiCell actually improves blood perfusion by 150%, whereas gel and foam show a decrease in blood perfusion.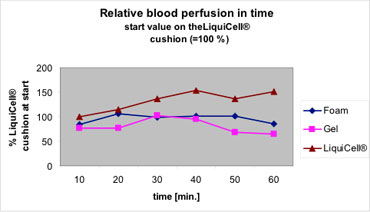 ---
Corporate pricing available. Please Call 800-307-9082.
---
Satisfaction Guaranteed Period!
"I am now able to work at my desk without having to stand at intervals. I experienced no pain while sitting and was able to work a full day. I am now a believer in the [LiquiCell Seat Pad] and have told others about it."
— Jackie R.
"As a part of my job, I spend countless hours in my vehicle. My first experience with the [LiquiCell Seat Pad] was a road trip of 1,200 miles in 5 days, and the relief and comfort from the pad were remarkable. Since then, I have traveled close to 10,000 miles and can honestly say that I would not leave home without it."
— Murray D.
"I purchased [the LiquiCell Seat Pad] as a gift for my elderly mother, who has been experiencing frequent discomfort and soreness when she sits for long periods. After using the cushion for the first time, on a 6-hour flight, she reported with some surprise that she wasn't sore at all. She likes the fact that the cushion is easily transportable — she can easily carry it with her whenever she expects to be sitting."
— Laura P.
"I used to feel restless sitting in my chair all day at work. Now with my LiquiCell Seat Pad, I found that I can work continuously without feeling like I need to stand or walk around frequently. Because of this, I don't feel sluggish while working at my desk and am comfortable all day long!"
— Alyssa F.
"I spend long hours at the computer and find this Comfort Seat Pad extremely comfortable and very effective in alleviating the pressure of prolonged sitting. I move it all over the house wherever I sit, at my computer, watching TV or eating. The comfort level is beyond description. I took it to the movies with me and what a difference. There wasn't any discomfort after sitting for 2 hours. I would recommend this seat pad for everyone."
— Cathy Bruen on Amazon.com
"I got this Seat Cushion by LiquiCell to use in my writing class which had hard chairs. I found I could sit for hours without fidgeting. My tail bone did not get numb. I started to take it everywhere with me. And the funny thing is I also use it on my recliner at home. I also use their Walk on Water Insoles with the LiquiCell Technology in my walking shoes. I can walk longer without getting tired. I just found out Florsheim shoes come with LiquiCell built in the shoe. I highly recommend the Seat Pad for anyone who has to sit for long periods of time."
— As reviewed on: Yahoo Review for LiquiCell Seat Pad
"I tried it for a few hours and then took it away to see if I could tell the difference. Wow! I became a believer. It is great if you are sitting at the computer most of the day."
— As reviewed on: Yahoo Review for LiquiCell Seat Pad
"Sitting in an office chair at the computer all day takes a toll, even when you are lucky enough to work in an office that has yoga classes in the conference room! I didn't even realize how much pressure there was on my tailbone until I had been sitting on my new LiquiCell Seat Pad for a few days, and then removed it to let a colleague test it out. Yikes! I felt about 30 lbs heavier! Needless to say I took back my seat pad, and have not experienced the dull, aching sensation from sitting too long since!"
— Katherine Rae from YogaYournal
"As a national/international lecturer and book author, I am constantly on the road, airplanes, and hotels. I use the liquicell seat pad on the airplane. It is thin and fits in my carry-on computer bag. It is the difference between being having symptoms and not having symptoms at my destination. I also use the liquicell shoe inserts, as am literally on my feet for days when I am doing my lecture series. Lastly I just ordered the liquicell sleep pad that will fit in my suitcase nicely. As the beds in international hotels are not always comfortable. So whatever I can do to help sleep when traveling is worth every penny. I am very grateful for the liquicell technology as it makes it possible for me to travel without symptoms."
— Kim Stockheimer, Holmen, WI
"It works great! I have tested it by using it for few days and not using next day to feel the difference. I was surprised how well it works and realized how tired I used to get at end of the day. There is no reason to get used to unnecessary pain. I have multiple of them now, one for work chair one for home computer chair and one for the car. I also carry it along for the long plane rides. We also used it on our coast to coast road trip and never felt tired of driving. I also buy it for gifting. Strongly recommend the product."
— Tushar