Get more done!
You need strong arms and wrists to succeed in any endeavor!
Order individually or order all the tools as a set on this page. You'll be glad you did!
IRON ARMS™
| | |
| --- | --- |
| | Iron Arms is the most effective tool for toning and strengthening forearms! This compact tool is easy to use and portable. Order your Iron Arms now! |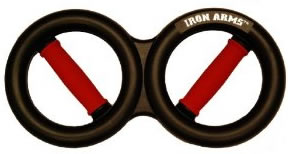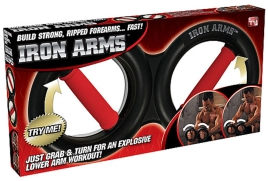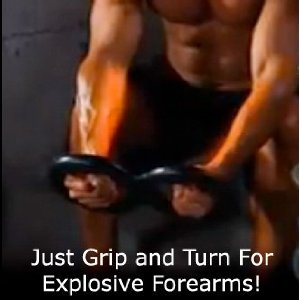 Build strong, ripped forearms fast with Iron Arms™! The lightweight design features steel spring resistance that helps you develop stronger flexor muscles and bigger extensor muscles. It's also compact and portable, allowing you to take it virtually anywhere.
Product Features
Build and strengthen your arms quickly and easily!
Easy to use - just grab the handles and turn.
2 different exercises to work different muscles.
Works the inner and outer forearms, and the hard to tone bicep peak area
Gain explosive arms for golf, baseball, football, tennis, bowling, or just about any sport!
Here's what people are saying about Iron Arms:
"I type and use the mouse a lot, and Iron Arms has helped in relieving the numbness and dull pain in my wrists. It is really convenient and it lets you work both your flexor and extensor muscles in minutes.
Even my tennis game has improved. Highly recommended!"
- D. Walker, CA
WRIST WAND™
| | |
| --- | --- |
| | WristWand™ is a new tool that helps with the painful symptoms of Carpal Tunnel Syndrome, Tennis Elbow and Golf Elbow Tendonitis. Compact and portable, take your WristWand with you wherever you go! Order now! |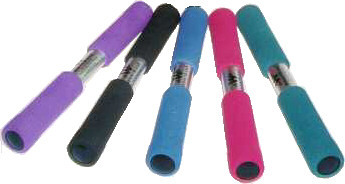 You can see your wrist getting stronger after just one use!
New tools in the battle against repetitive stress injuries!
WristWand® is a new tool in the battle against painful, debilitating RSI (Repetitive Stress Injury) conditions such as Cumulative Trauma Disorders of the wrist and hands, Carpal Tunnel Syndrome, Tennis Elbow and Golf Elbow Tendonitis. This unique stretch using the WristWand® as directed helps protect and relieve these painful disorders by stretching key muscle groups of the hands, wrists, forearms and upper arms.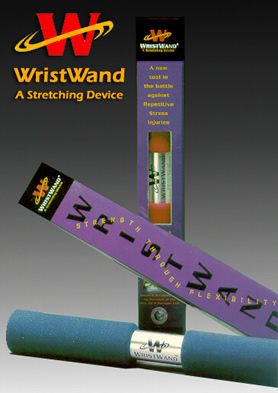 CARPAL CARE
| | |
| --- | --- |
| | Carpal Care is an innovative tool for the rehab and prevention of carpal tunnel syndrome. Carpal Care strengthens the muscles opposite of those being overused everyday. Order today for fast relief! |
Made solely for the prevention and rehab of carpal tunnel syndrome. This resistance band strengthens the muscles that are opposite of those being overused everyday. The balancing of the muscles helps prevent and neutralize common symptoms. Includes an instructional exercise program booklet.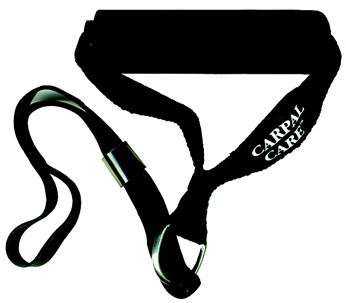 Relief is Just a Roll-A-Way with the Trigger WHEEL®!
Musculotendinois Therapy of Carpal Tunnel, Tension Headaches, TMJ and More!
The Trigger Wheel gives relief from pain, stiffness and soreness, caused by carpal tunnel syndrome and other muscle-related disorders. Take yours with you in your purse, pocket, or bag today! Order your Trigger Wheel now!

Some of our Other Products...

The Stick is a revolutionary medical device to treat muscle pain and trigger points. The Stick is 24-inches long, 14 ounces, and has 16 spindles to easily glide along muscles. Order yours today and eliminate sore muscles forever!

The Foot Wheel provides benefit to individuals who spend a large portion of the day on their feet.
Soothe tired, achy feet in seconds. Foot Wheel is an effective tool in combating sore feet - order your Foot Wheel today!

Enhanced with LiquiCell technology, our Walk on Water Shoe Insoles provide comfort that stays with you all day long. Get rid of your sore and tired feet - order you pair today!
The Wheel® is a uniquely effective device. It is physician designed to give immediate, temporary relief from pain soreness of muscle-related disorders. The Wheel® provides many documented benefits of trigger point therapy and myofascial release. Its purpose is to extinguish myofascial trigger points and augment the qualities of healthy muscle.
The Wheel® is rolled lengthwise over the involved muscle, using short back & forth passes
After locating the trigger point, continue the rolling process for about 30 seconds
The Wheel® is successfully used in the musculotendinous
therapy of:
Carpal Tunnel syndrome
Occipital Neuralgia
Tension Headaches
TMJ Disorder
Epicondylitis
Tendinitis
Other Myofascial Lesions

Click to download the brochure for the Trigger Wheel®!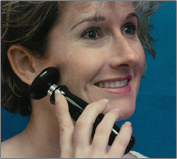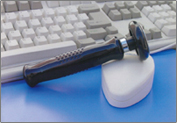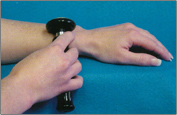 Here's what others are saying about Trigger Wheel™:
"The [Trigger] Wheel allows me to spend more hours writing and editing than I otherwise could."
- John C. Lowe, The Fibromyalgia Research Foundation, Houston, TX
"I recommend the [Trigger] Wheel for all my patients with symptoms of Carpal Tunnel Syndrome."
- Sydney Wade, PT, Athens, GA