Choosing the Right Cushion for Arthritis Hip Pain and Osteoarthritis
When sitting up straight and having an ergonomic work station, keyboard and orthopedic chair is not enough, there is help now.
Ergo21 has a complete line of cushions that utilize the LiquiCell Technology.
Using an innovative combination of a low viscosity fluid and strategically placed seal points that control the flow of liquid, LiquiCell reduces discomfort associated with prolonged contact between the body and an object. By equalizing perpendicular pressure at the point of contact (thus reducing pressure), soft tissue compression is greatly reduced thereby significantly reducing skin friction and soft tissue shear stress.
Medical and scientific evidence prove that while gel, foams and air do provide some relief of discomfort through perpendicular pressure reduction, they do not protect against the harmful effects of friction and shear stress, two of the most influential factors related to discomfort, pain and trauma (pressure sores)
Watch the Cushions in Actions! – A short Video
Which Cushion should I buy – A short Video

WATCH ABOUT THE LIQUICELL TECHNOLOGY…
http://www.ergo21.com/liquicell-technology/

Anatomy of a Perfect Seat Cushion
A seat cushion should not restrict your movements or cut off circulation. By carefully combining the proper density of polyurethane foam and a layer of LiquiCell Membranes to maintain blood flow under the tail bone, hot spots and vertical pressure on the sitting bones is virtually none. In addition, we use the highest quality fabric that's durable, long lasting and cooling.
Our Ergo21 Extreme Comfort Seat Cushions surely have the WOW factor and will put a smile on your face! Our Ergo21 Comfort Seat Cushions with LiquiCell are more comfortable than any Air Seat Cushion, Gel Seat Cushion or Foam Seat Cushion on the market.
* Reduce fatigue, numbness, and tail burn
* 4 patent pending LiquiCell membranes
* Designed to relieve discomfort
* High density polyurethane foam
NO OTHER CUSHION COMES CLOSE TO ERGO21 COMFORT SEAT CUSHION! YOU GET WHAT YOU PAY FOR –
IT'S SIMPLY AMAZING!
* Mark Rodgers

What Customers are saying about Ergo21 Seat Cushions and Sleep Mattress Overlays that help with Arthritis….
***** I am so Happy to have found this product – Ergo 21 Seat Cushion
I am so happy to have found this product. I have arthritis and all the aches and pains that go with it. Before using this cushion, I could only sit and work at my computer for 20 minutes at a time. Now I am able to sit comfortably, for as long as necessary, to accomplish what I sit down to do. It has been a godsend for me and certainly worth a try, whether you have issues or not.
By Anne on Amazon
***** Works as advertised – Ergo21 Seat Cushion
First one of the best companies I have dealt with for customer satisfaction. The designer spoke with me to help me find the cushions that would work best for my situation. I have had three back surgeries and both hips rebuilt. Sitting comfortably is not an easy activity. I am 56 years old, female, tall with a healthy weight and some arthritis. I now own three of these cushions. The original is perfect for hard wood or folding metal chairs. I use it when going to weekly quilting groups on the folding chairs. Before using this cushion I was limited in the time I could spend with the group due to the folding chairs and resulting pain. Now, no problem. The angled front that gives a narrower profile and is amazingly helpful with the cushion's effectiveness.
The Ergo21 lumbar cushion stays in the car. Do not be dismayed by the shape. You will not see a convex area for your lumbar area as with most cushions, and I was skeptical when I saw the shape. That is until I tried it in my truck. Most comfortable and effective lumbar support in a vehicle I have used. The gel cushions inside mold to where your lumbar section is on your back. Because of that the lumbar support is not to high/low, too much arch or too little. Plus it decreases the vibration from the road to your lower back. I have used it going 30 hours to Texas and back. Good road test.
The Ergo21 travel cushion I use for plane flights. The vibration plus hard seats made flying an endurance test. Sitting on the travel cushion made a major difference. No, my legs still hit the seat in front of me but at least my behind is happier. The decrease in transferred vibration to my hips and lower back was impressive. Plus, the folding feature makes it easy to tuck into a carry on and use on the airport seats when your flight is delayed, again. Visit their website. It really helps to understand the construction of this product.
***** Helps Arthritis – Ergo21 Lumbar Cushion
I've used the cushion now for several months and find that it helps my arthritis. I stiffen-up after sitting awhile but if I use the cushion it is much less and more comfortable too. Very happy with purchase.
By Amazon Customer
*****Need a cushion to help sit? Ergo21 is the cushion to get! Highly recommended |Verified Purchase
My name is Candace and my son, Jeremy, purchased an Ergo21 LiquiCell Sports Cushion for me. I have used it at home and on planes and it was very, very helpful for my arthritic bones. The cushion was a little high for me for plane seats and some furniture, so another cushion was purchased for me. We were
treated with utmost respect and prompt help. A very helpful man named Steve helped us and I plan to always have these wonderful cushions because between fibromyalgia and bursitis in my hip and arthritis in my sacroiliac joint and in my hips, these cushions save me from the severe pain I often had before I owned the Ergo21 cushions. Order a couple of them for your home and car, would be my suggestion. I'd recommend these cushions to anyone with physical difficulties such as I have. Thanks, Ergo21!
By Jeremy on Amazon
Ergo21 Pillow Case with LiquiCell
"The first night I used it, I slept three hours longer. I had no pressure on my neck and head. Amazing!" – Nirmal K.
"I"m a big fan of their Ergo21 Seat Cushions, so when I heard that they came out with an Ergo21 Pillow Case, I ordered it right away. And I must say that I sleep much better and wake up with no discomfort in my neck. Now I even take the Ergo21 Pillow Case on vacations instead of carrying my pillow. Good Job Ergo21!" – Bill C.
I highly recommend giving it a try!
***** Ergo21 Sleep Mattress Overlay helps with Osteoarthritis
I have been using this sleep pad now for a couple of weeks. I have serious back and hip issues because of osteoarthritis and from the very first night, there was a measurable difference. The extreme pain and stiffness I was experiencing getting out of bed in the morning is very much improved. I look forward to getting into bed at night, because you can feel the comfort immediately. As a bonus, it seems to promote sounder sleep. At first glance, It may seem a bit pricey but it is well worth the investment because that's what it is, an investment in your health and comfort. I highly recommend giving it a try.. An amazing product!
By Anne on Amazon

Ergo21 Cushions has a complete line of cushions for various applications. Also, they come in different sizes for all body types and weight.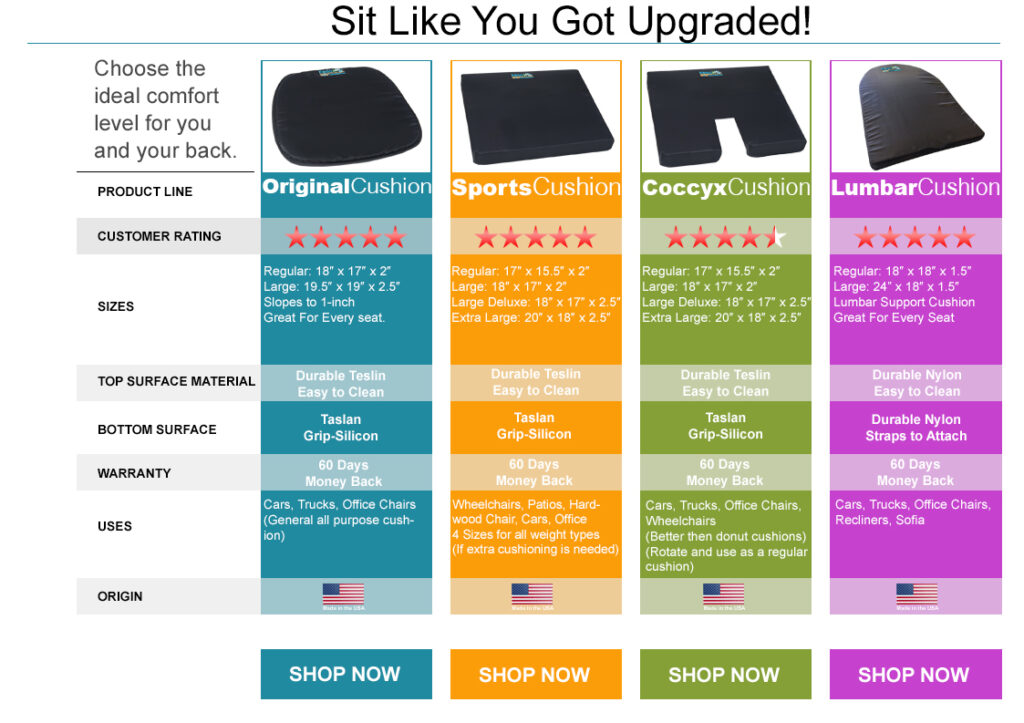 Always consult with a doctor or your nurse. Change positions often and spread your weight evenly. In chairs and wheelchairs shift your weight often. Certain chair exercises can keep the circulation going.
Check out this book that has easy to do movement – Relaxercise, By David Zemach. Many have benefitted.
https://www.amazon.com/Relaxercise-Easy-New-Health-Fitness/dp/0062509926/ref=sr_1_1?ie=UTF8&qid=1484012924&sr=8-1&keywords=relaxercise
5.0 out of 5 stars Great Book! By Frank Jr – Amazon
This book changed my life. It is simple and easy to use to combat lack of spinal flexibility.
This is the best book for anyone with any kind of pain By Tina de Risa – Amazon
This is the best book for anyone with any kind of pain. Increase your whole-body mobility and start to feel great!
Good exercises for those with pain issues or for working out subtle tension–By Hilary on Amazon
Got this book to use with patients who have pain symptoms to provide some easy, gentle stretches. Good pictures and descriptions.
Here's to Health, Wealth and Happiness – Cheers!
Steve Gambhir – Designer of Ergo 21 Extreme Comfort Seat Cushions – Finally a way to sit or drive for hours in comfort!
Steve's Interests:
Yoga & Meditation
Long walks by the beach
Member of and BNI International
Took acting, comedy and improv at the Orange Coast College for 3 years
Performed at 250 shows at various clubs including Irvine Improv
Acted in one independent movie – but did not want to quit his day job ☺
Currently writing for Health & Fitness blog at
Lifechangingtip.org
Steve Gambhir is also a Health and Wellness Coach who is passionate about food, nutrition and general fitness. Steve is dedicated to helping everyone he meets live happier, healthier, more fulfilling lives.
In addition to being active in his southern California community of Newport Beach, Steve also founded
Ergo21
"Tools for Health and Fitness," and the blog
Lifechangingtip.org
which provides guidelines for healthy living.
His Ergo21 Extreme Comfort Seat Cushions and Insoles are available at
Ergo21
and have helped thousands to be on their feet all day long and sit in comfort for long periods of time.
His following articles have helped many regain their health and have gotten a great response from doctors and health professionals:
FOOD COMBINATION – WHY YOUR STOMACH HURTS AFTER YOU EAT…
HOW I LOST 32 POUNDS…
Ergo 21 – Shakti Inc.
4 Park Newport, Suite 4
Newport Beach, CA 92660
(Below the clock tower, next to the Park Newport Market)
949-975-8219
Mobile: 949-795-9066

Latest posts by Steve Gambhir (see all)