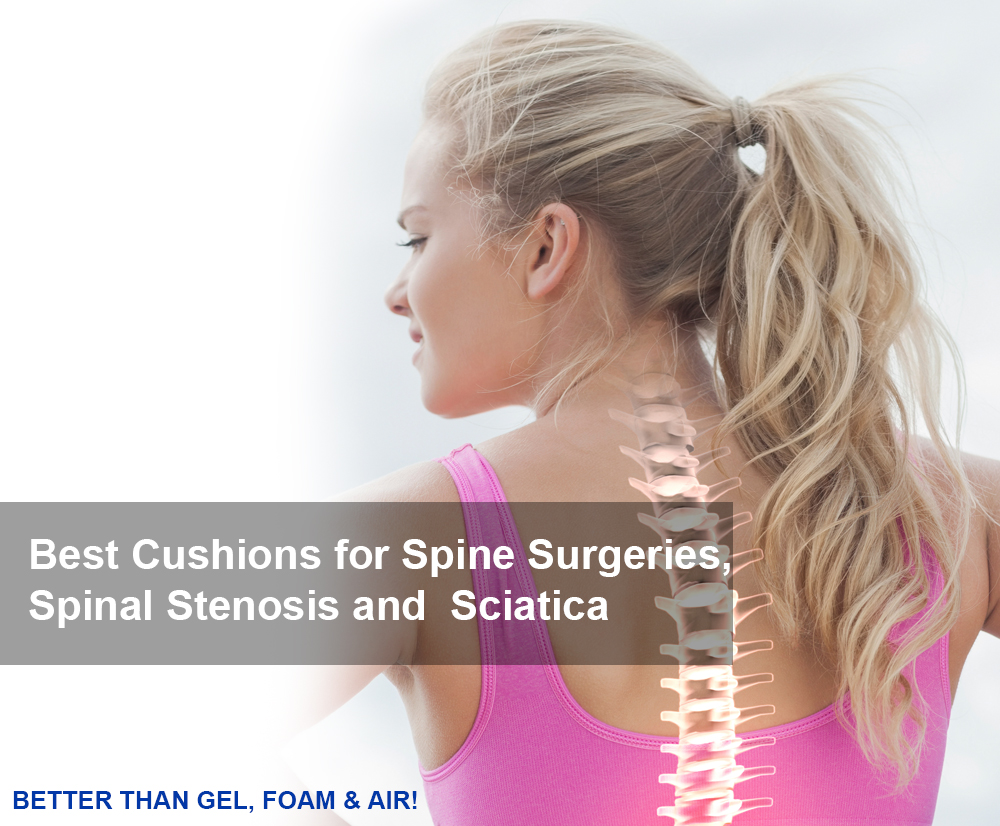 Watch the Cushions in Actions! – A short Video
Which Cushion should I buy – A short Video
Best Seat Cushion for Laminectomy/Micro Discectomy, Arthritis, Hip, Leg & Thigh pain
Ergo21 Seat Cushions provide relief for Spine Surgery Relief, Spinal Stenosis and Sciatica issues.The LiquiCell Technology keeps the blood flow under the tailbone and thighs. The Ergo21 Lumbar Cushion provides deep rest and relaxation along the spine for long term seating comfort
Innovative LiquiCell Technology Improves Circulation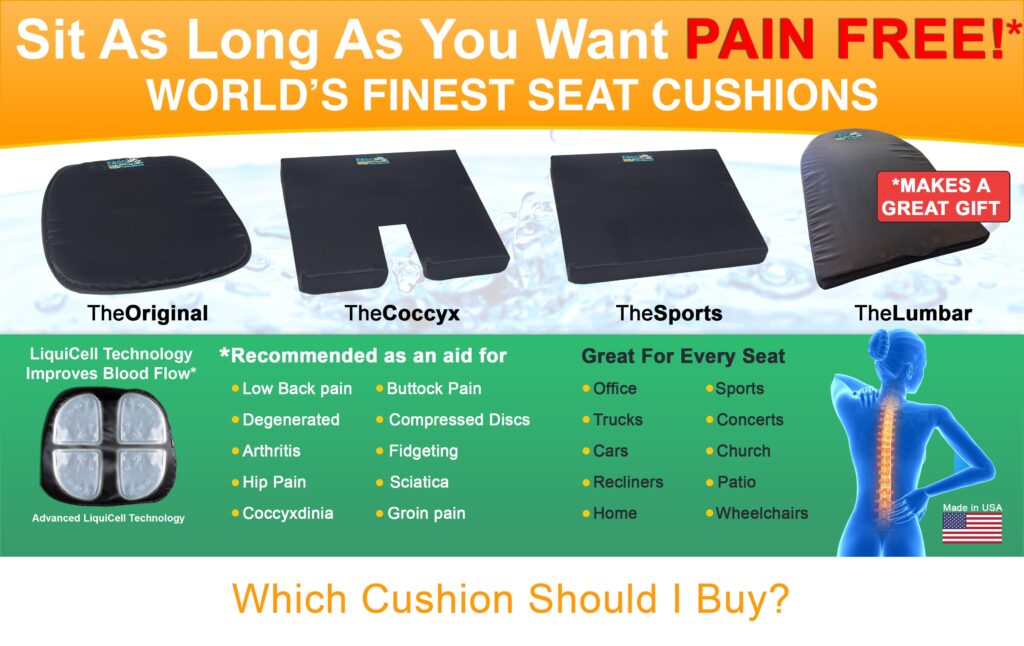 What LiquiCell Will Do for You…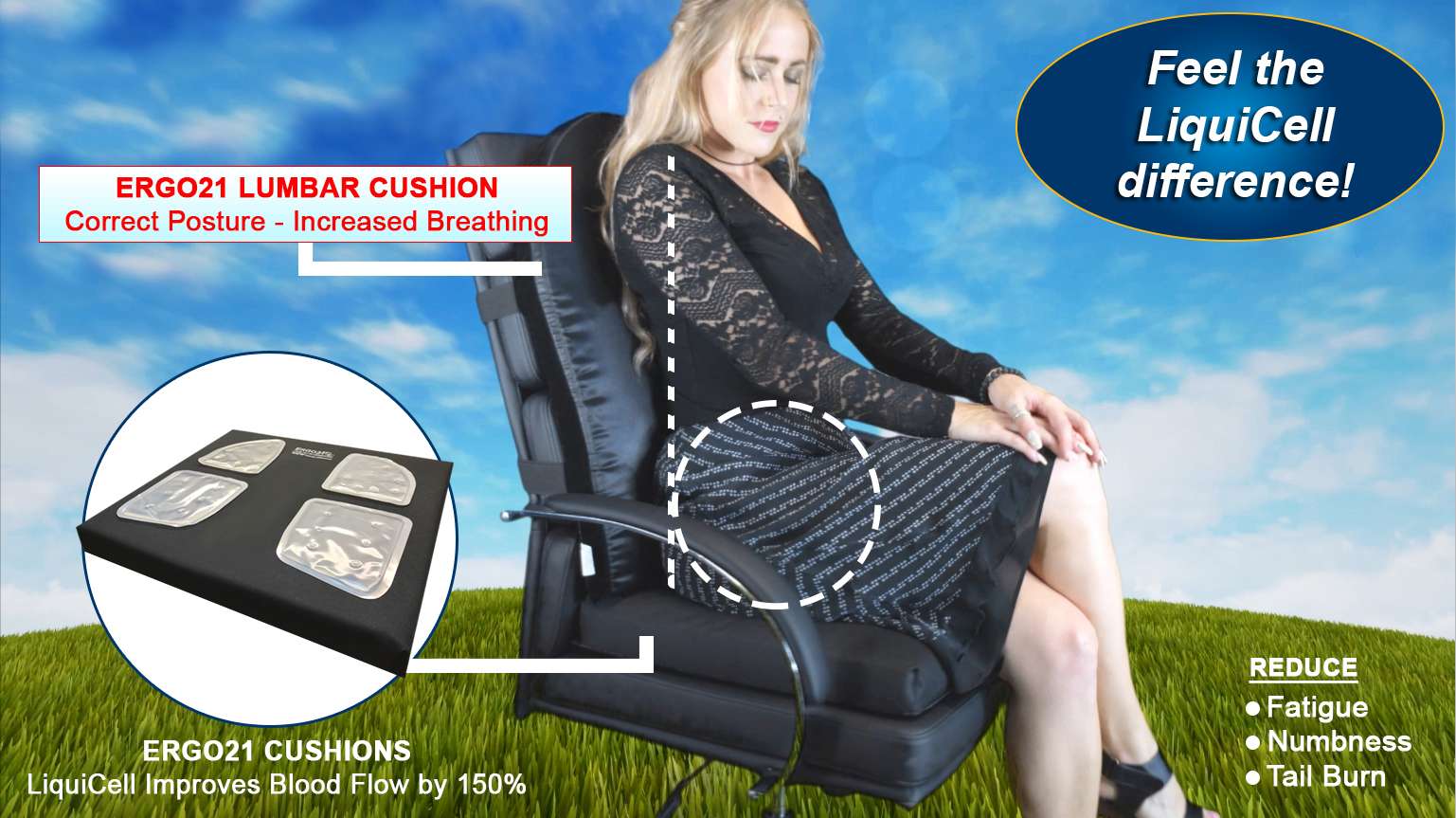 LiquiCell Technology strategically places low viscosity fluid inside the cushions' ultra-thin cells to reduce discomfort associated with prolonged contact between the body and an object.
The liquid stays in constant motion, letting the body glide and float. This provides instant comfort, reduces numbness and improves circulation by 150 percent.
"We've had countless reviews from people who sit for long periods in office chairs or wheelchairs," explains Steve. "These customers report that their sores went away and they can now sit for hours without any discomfort." Since LiquiCell performs better than gel, foam or air, it's even being used in hospital beds to prevent pressure sores and skin breakdown for patients who cannot move.
5.0 out of 5 stars Spine surgery recovery – Great Product!
I love this product. I am 25 years old and had a 2 level (L4-L5 & L5-S1) Laminectomy/Micro discectomy due to a sports related injury. Recovery has been very painful and tough and I've have been suffering for the past 5 months.
Sitting is the thing that irritates my recovery the most and I start to get leg aches and mild sciatica as my discs have not yet healed. This product has helped so much!! It has significantly eased my pain. I have one in my car and I take one to work where I sit for many hours. It is easy on the spine, the buttocks and the thighs.
Seems like you're almost floating. I highly recommend this product for anyone with spin injuries or anyone who drives for long hours or spends many hours sitting at work. Thank You Ergo21 and thank you Amazon.
By Omar M.
I have Spinal stenosis and twice a year I travel to Arizona State University to see my step-son. My Sister recommended the Ergo21 because after the 10 hour trip up and back I have extreme back pain for weeks after the trip. This last trip I took my Sister's recommendation and used the Ergo 21. got back after 10 hours of driving without any back pain
By John Blod


Advanced Technology. LiquiCell is an innovative combination of low viscosity fluid strategically placed to control the flow of liquid, LiquiCell reduces discomfort associated with prolonged contact between your body and an object. Medical and scientific evidence proves that gels, foams and air do provide some relief of discomfort, they do not protect against harmful friction and shear stress. READ MORE Every Ergo21 Extreme Comfort Seat Cushion is specifically customer designed to provide maximum comfort. Each cushion is designed to provide unsurpassed long-term comfort to improve quality of life. Five Models are Available: The Original Extreme Comfort Seat Cushion (Most Popular) Sports Edition (for Concerts, Recreation & Wheelchairs) Coccyx Edition (for Concerts, Recreation & Wheelchairs)Lumbar Cushion (for Back Support) Travel Cushion (for traveling)
Ergo21 Collection
The best feature of the Ergo21 Cushions is that they come in different sizes and shapes to accommodate all body types and seating situations.
Ergo21 Original Cushion has a contoured shape and is perfect for the office chair, car seat. It comes in two sizes – Regular and Large
Ergo21 Sports Cushions has the traditional rectangle shape. This is good for wheelchairs, Patio or wooden chairs. It also works well with someone looking for additional support. The square design gives the added support under the thighs and this way there is less pressure on the sitting bones.
This comes in 4 sizes. The Deluxe and Extra Large provides deep support and can  support 200 to 250 Lbs. + individuals.
Ergo21 Coccyx Cushion is essentially the same as the Sports Cushion but with a cut out. This provides comfort for tail bone issue.  A great feature of the way we designed this is that you can just rotate it around so the cut out is in the front and use it as a regular cushion when the tail bone is doing good. This also comes now in 4 sizes.
Also, look for our Ergo21 Bicycle Seat Cushion cover with the LiquiCell membrane and special High Density foam which absorbs road bumps and at the same time prevents skin breakdown for a long enjoyable ride on the road or on the gym bike.
Finally, our Ergo21 Lumbar Cushion is getting rave reviews on Amazon as well. It is loved by anyone who is driving with many reviews from Uber drivers and cab and bus drivers. It absorbs the road vibration and molds to the spine providing extreme comfort. Also works great on Recliners at home.
5.0 out oHusband was not able to sit more that 10 minutes …
Husband was not able to sit more that 10 minutes in chairs, cars, on couch or in bed due to back issues (massive scar tissue build up from multiple back surgeries, stenosis and nerve damage) but this has helped to extend his sitting time to where he can have dinner with the family and not in bed. Thank you!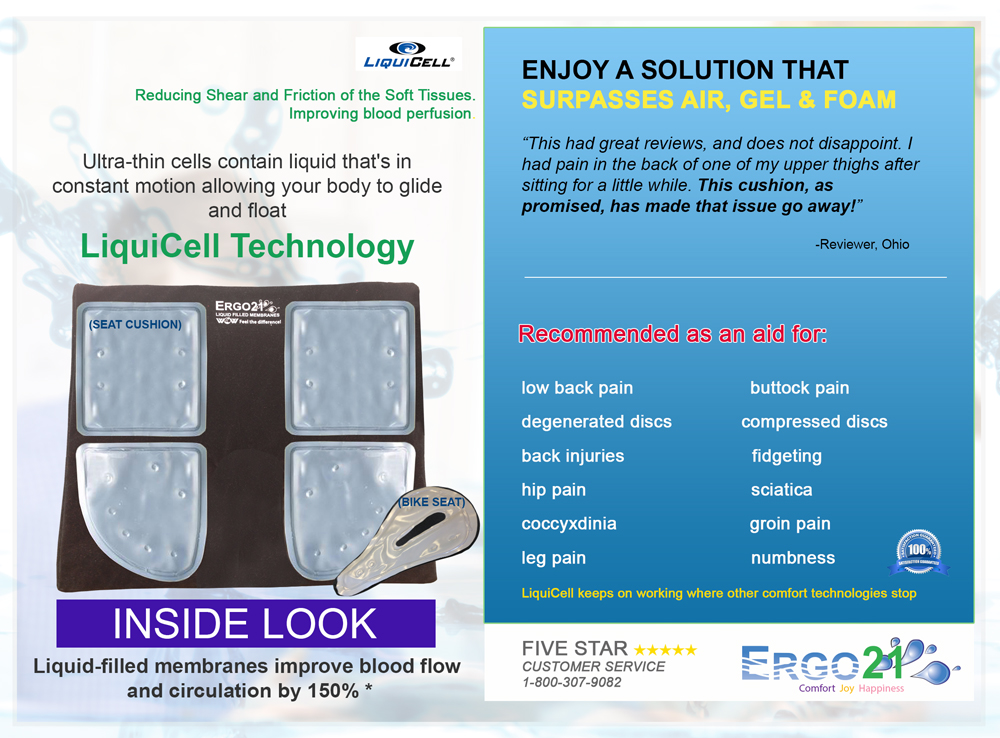 5.0 out of 5 starsI really like this seat cushion
I really like this seat cushion, after reading reviews ; I ordered , not disappointed at all ….most seat cushions make me sweat after seating awhile; can be embarrassing to say the least …..I have sciatic and Spinal stenosis & was operated on for herniated discs …..so I have problems with hard bottom chairs or too soft , Helps me when driving any distance …very comfortable …..I sent for a 2nd set , now have one set for car , one for bottom for my leather recliner …..

5.0 out of 5 stars – Life is less ouchy! Thank you Ergo21 LiquiCell Original Seat Cushion,
 Waiting hip replacement surgery, Ergo21 LiquiCell Original Seat Cushion, has lessened the pain of sitting and getting up from a sub-standard office chair provided by my hospital employer, my job requires 8-10 hours of sitting, Ergo 21 has made it more tolerable.
 5.0 out of 5 stars – When I stood up I was staggering around until I got my hip in place to walk – a very painful experience. All that has gone now
I am Jeanne Anderson – Keith bought this product for me. I have arthritis in my hip and need hip replacement surgery but that will not be convenient until July. For a year and a half now I have been in constant pain, unable to sit for more than 5 minutes at a time.
 When I stood up I was staggering around until I got my hip in place to walk – a very painful experience. All that has gone now! I can sit as long as I need and now when I get up I walk normally. And this cushion has taken away the pain! A true miracle! I am going to take this cushion with me wherever I go!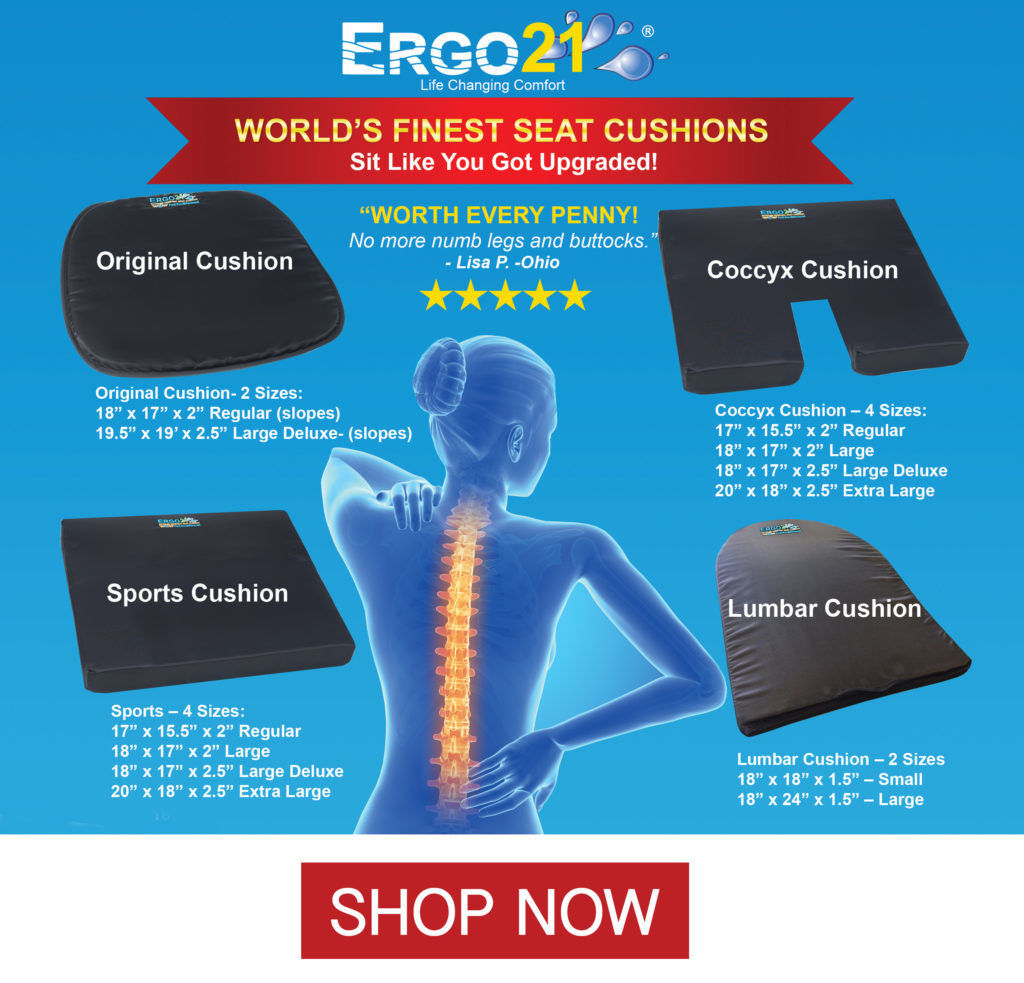 Steve Gambhir – Designer of Ergo 21 Extreme Comfort Seat Cushions – Finally a way to sit or drive for hours in comfort!
Steve's Interests:
Yoga & Meditation
Long walks by the beach
Member of and BNI International
Took acting, comedy and improv at the Orange Coast College for 3 years
Performed at 250 shows at various clubs including Irvine Improv
Acted in one independent movie – but did not want to quit his day job ☺
Currently writing for Health & Fitness blog at
Lifechangingtip.org
Steve Gambhir is also a Health and Wellness Coach who is passionate about food, nutrition and general fitness. Steve is dedicated to helping everyone he meets live happier, healthier, more fulfilling lives.
In addition to being active in his southern California community of Newport Beach, Steve also founded
Ergo21
"Tools for Health and Fitness," and the blog
Lifechangingtip.org
which provides guidelines for healthy living.
His Ergo21 Extreme Comfort Seat Cushions and Insoles are available at
Ergo21
and have helped thousands to be on their feet all day long and sit in comfort for long periods of time.
His following articles have helped many regain their health and have gotten a great response from doctors and health professionals:
FOOD COMBINATION – WHY YOUR STOMACH HURTS AFTER YOU EAT…
HOW I LOST 32 POUNDS…
Ergo 21 – Shakti Inc.
4 Park Newport, Suite 4
Newport Beach, CA 92660
(Below the clock tower, next to the Park Newport Market)
949-975-8219
Mobile: 949-795-9066

Latest posts by Steve Gambhir (see all)