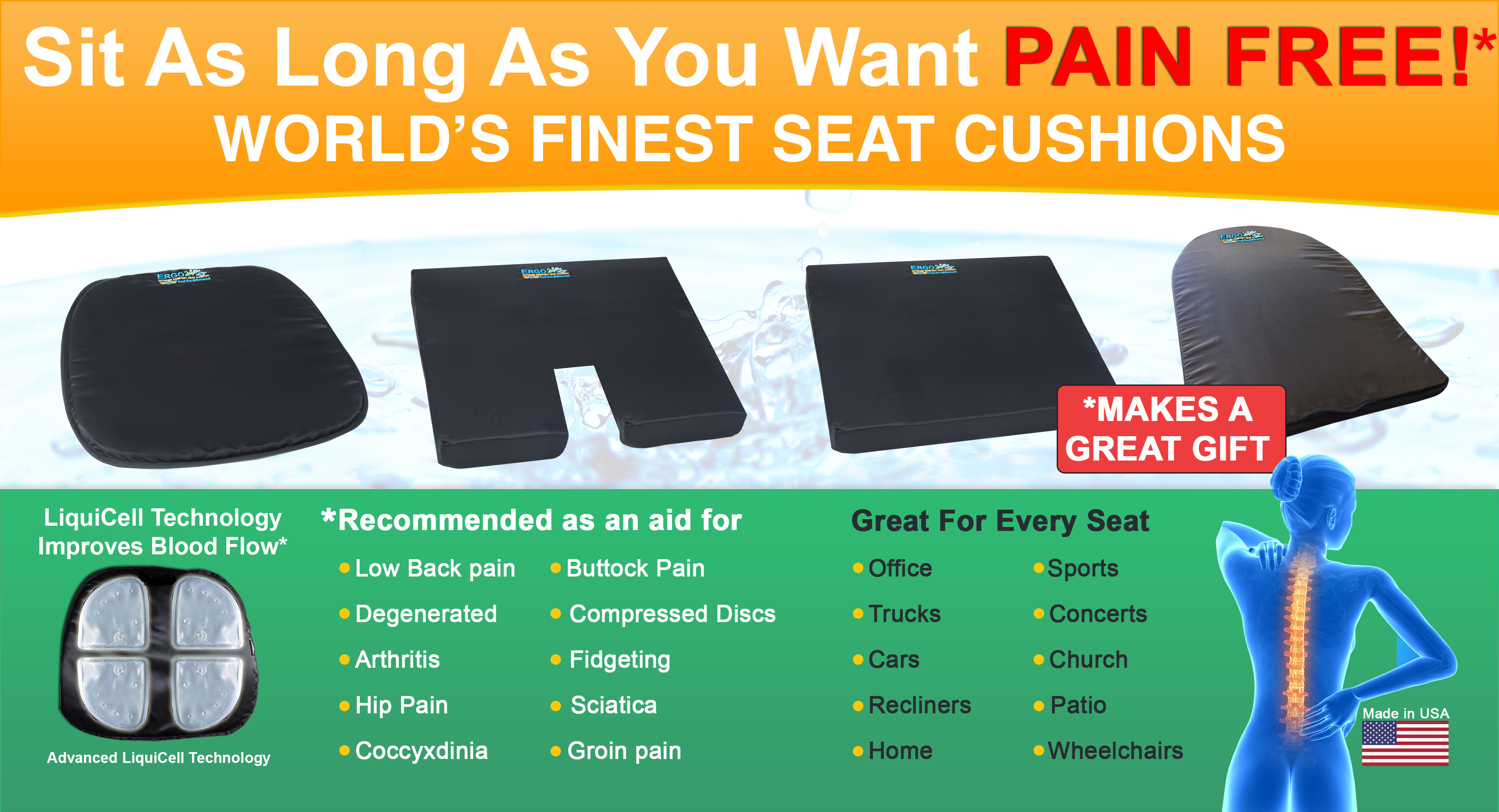 Four Ultra – thin cells are hand stitched and strategically placed on top of High Resilience foam to reduce vertical pressure on the sitting bones and thighs.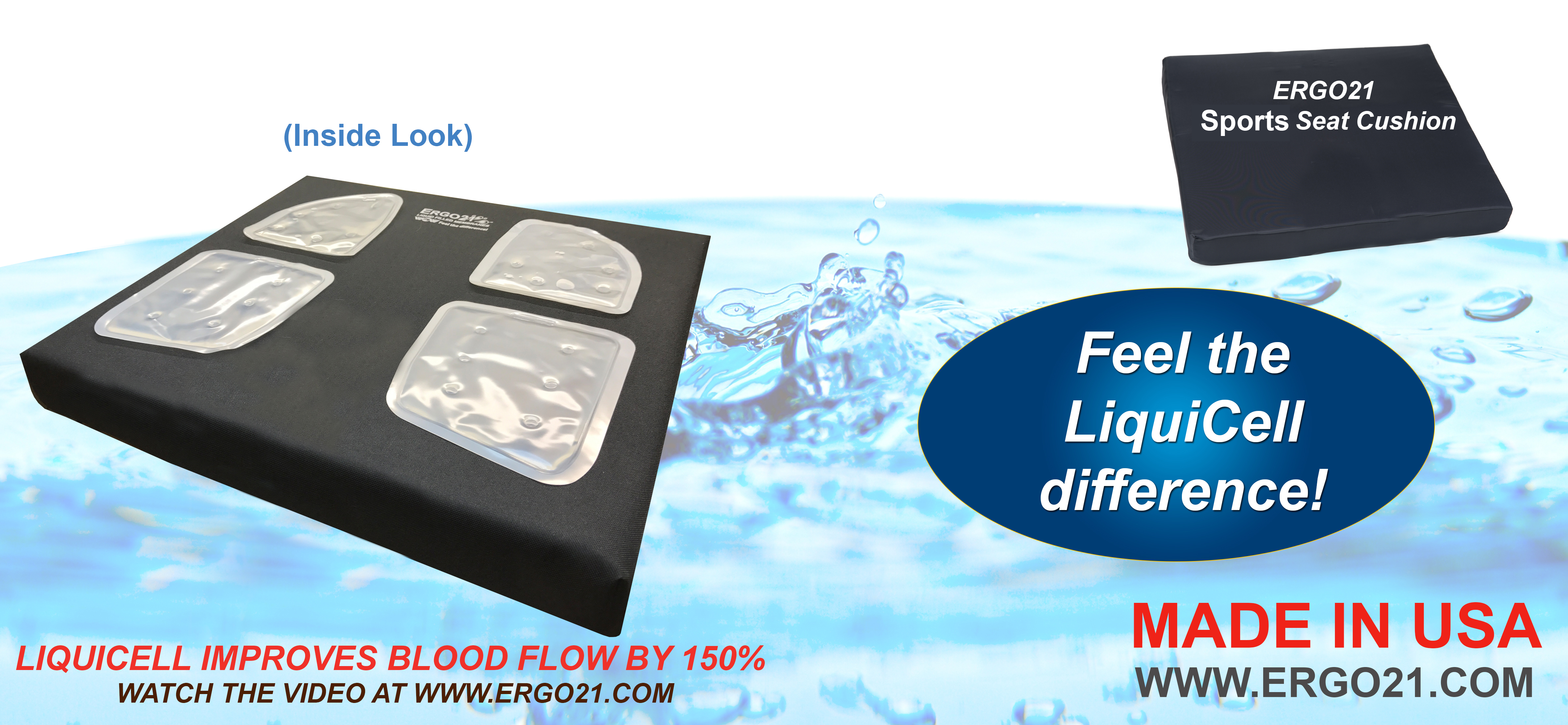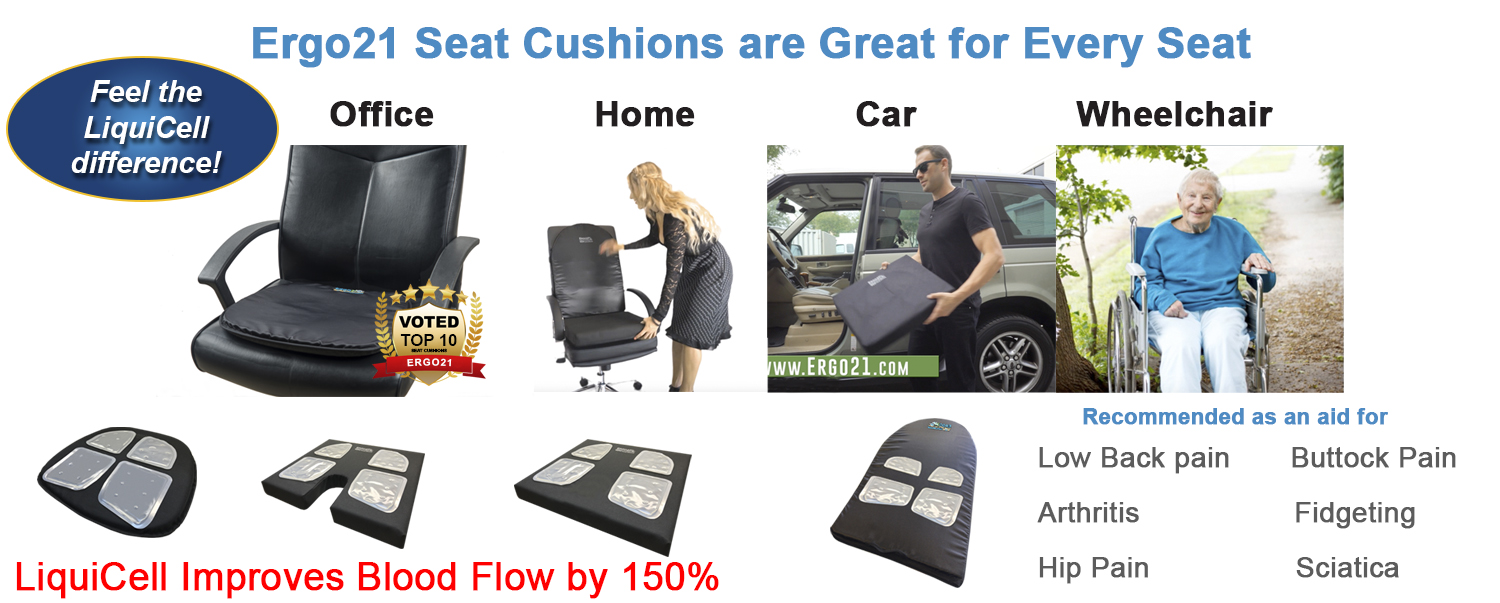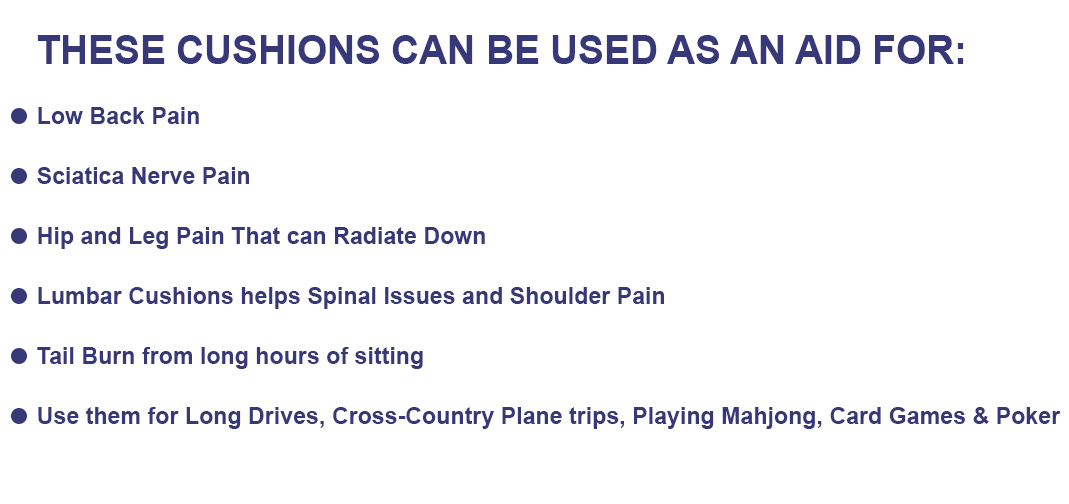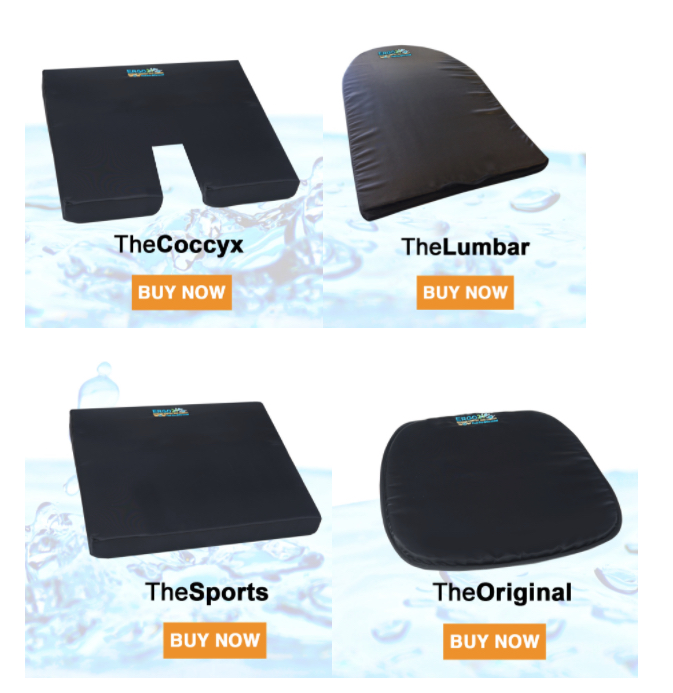 ERGO21 SEAT CUSHION REVIEWS
Best seat – Uber Driver
If you struggle to sit in a car or at a desk due to sciatica or low back pain, this cushion is for you. As an Uber driver with over 2,200 rides, this product is simply the best of the best for assuring positive blood flow over the course of a long night at the wheel.
By Robert Mcclain – Verified
I really like this seat cushion
I really like this seat cushion, after reading reviews ; I ordered , not disappointed at all ….I have sciatic and spinal stenosis & was operated on for herniated discs …..so I have problems with hard bottom chairs or too soft , Helps me when driving any distance …very comfortable …..I sent for a 2nd set , now have one set for car , one for bottom for my leather recliner …..
By Louise Jane Chapman – Verified
Makes Long Drives Comfortable
"Got this Ergo21 Cushion and the lumbar cushion for my wife's car. She likes it. Plan to get another set for my mother's car."
By Ds Trit – Verified
Ergo21 LiquiCell Insoles – They fit great in my workout shoes..
These Ergo21 LiquiCell insoles are thin but amazingly soft and absorb a ton of impact. They fit great in my workout shoes and a thin enough for the laces to be tied tight, but don't constrict my foot.
By Amazon Customer – Verified Purchase
Ergo21 Bicycle Seat Cover Cushion5.0 out of 5 stars.This was a great investment!
Ergo21 Bicycle Seat Cover Cushion – This was a great investment
I purchased this seat to cover my cycling seat. I can exercise more comfortably and longer by having this seat cushion. This cushion is made of good quality material. Great buy.
By Cece – Verified Purchase
Ergo21 Sports Cushion – Extra Large – I am seated for 12-14 hours, the back of…
I am seated for 12-14 hours, the back of my legs were starting to hurt. Now I will not sit anywhere for more than an hour without this cushion. I am large and am happy they have a large size.
By Dighton B. – Verified




Reviewed Our Seat Cushions!
"I have been very pleased so far, and I have the Original in my car. It really is super comfortable! So I use it every day!!" – Definitely Seat Cushions are Better than Gel Seat Cushions or Foam Cushions. – Doctor Jo –

Seal points control the flow of liquid to equalize pressure and provide a cushiony lubrication at the point of contact on the body.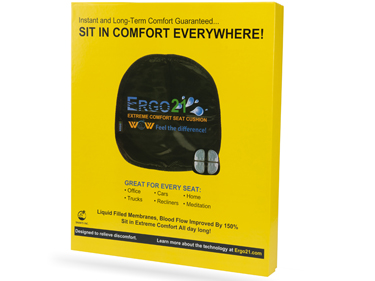 Reduce fatigue, numbness & tail burn – Enjoy sitting for longer periods of time
An aid for buttock pain, hip pain, groin pain, leg pain, sciatica and other issues involving sitting.
Ultra-thin cells contain liquid that's in constant motion allowing your body to glide and float
What this means to you is instant comfort, reduction and elimination of numbness, fidgeting
Liquid-filled membranes improve blood flow and circulation by 150% – Enjoy a solution that surpasses air, gel and foam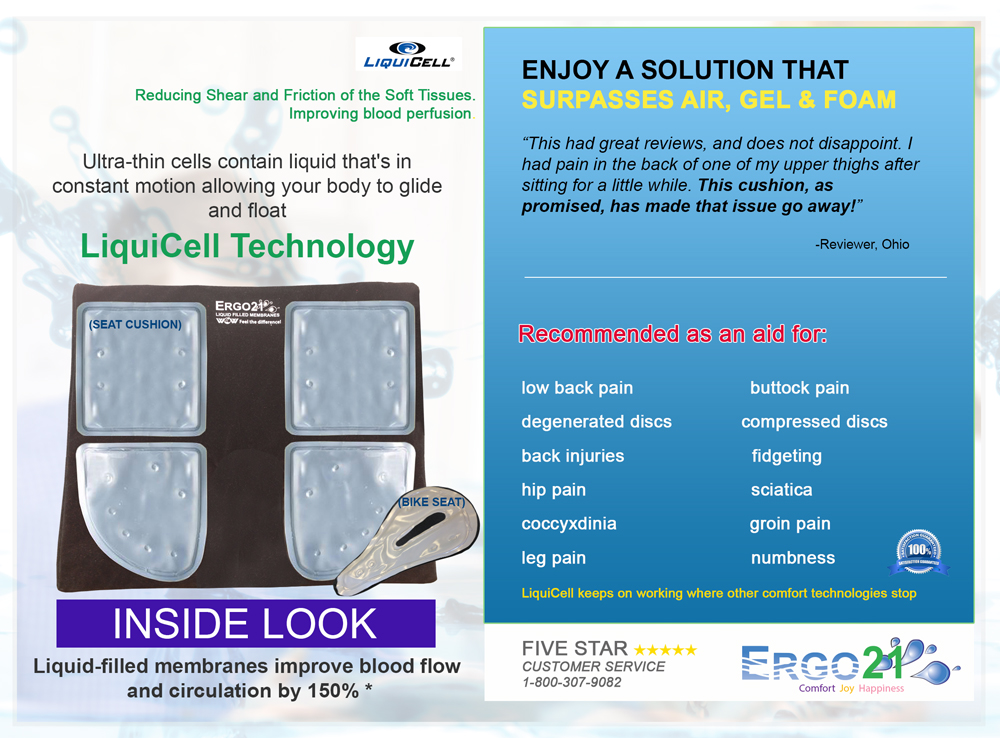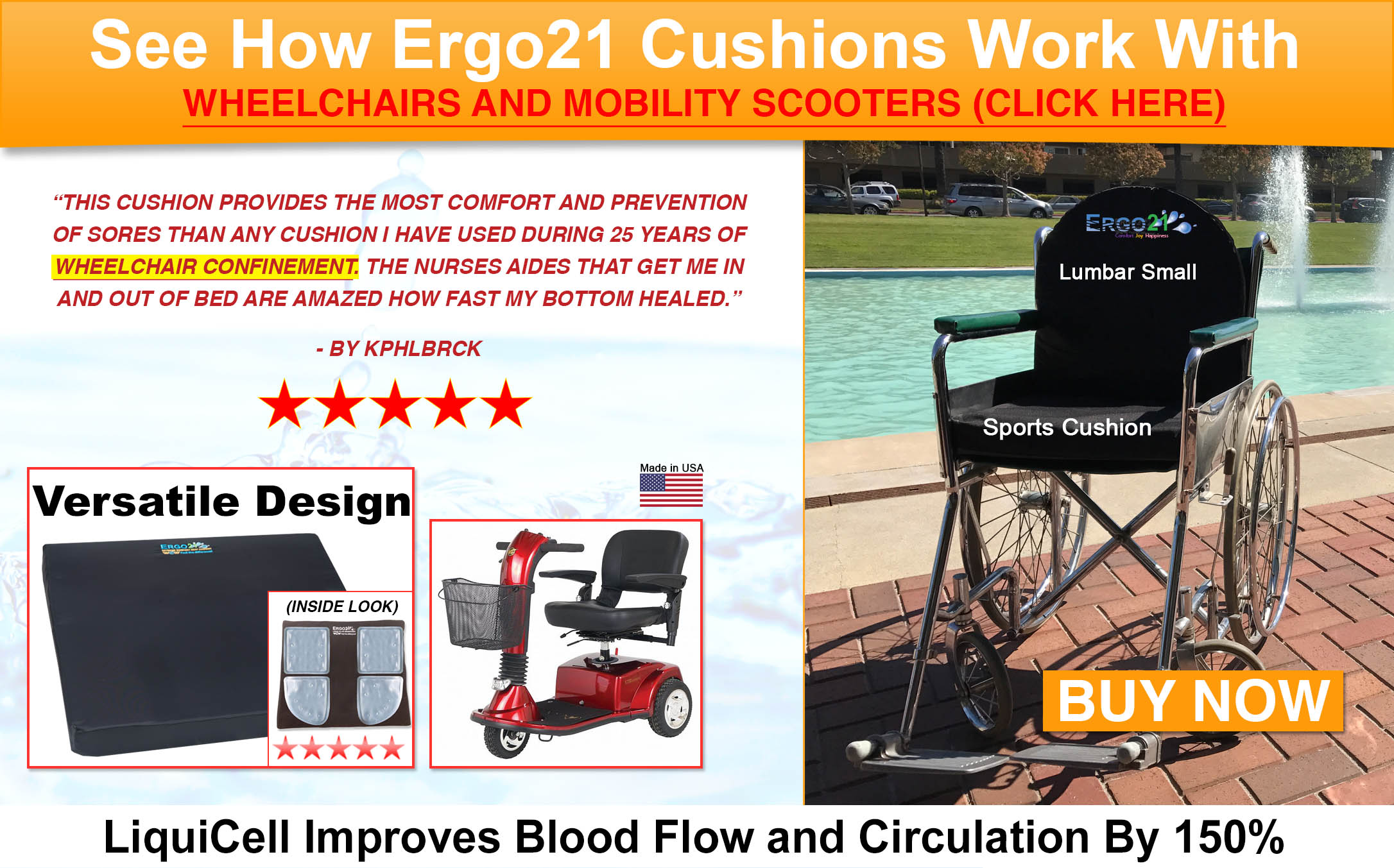 What's So Extreme About A Seat Cushion?
Ergo21's website slogan reads, "Comfort. Joy. Happiness." It's a fitting description for the company's product, the Ergo21 Extreme Comfort Seat Cushion, which uses advanced LiquiCell Technology to help customers sit hours and hours without aches or soreness. Company president Steve Gambhir used to drive four to six hours a day in LA traffic setting up merchant credit card processing accounts. "I tried using a different cushion every month to relieve the back pain from long hours in the car," Steve recalls. "Finally, my wife said, 'Why don't you design your own cushion?' so I did." LiquiCell: – reduces the stretching and tearing of the soft tissues, thereby improving blood flow. – does not interfere with the individual's positioning or stability. – is thinner, lighter, more flexible, and more durable than gel, foam, or air. – provides unsurpassed long-term comfort to improve quality of life.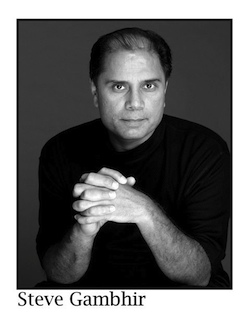 Innovative LiquiCell Technology Improves Circulation
LiquiCell Technology strategically places low viscosity fluid inside the cushions' ultra-thin cells to reduce discomfort associated with prolonged contact between the body and an object. The liquid stays in constant motion, letting the body glide and float. This provides instant comfort, reduces numbness and improves circulation by 150 percent. "We've had countless reviews on Amazon from people who sit for long periods in office chairs or wheelchairs," explains Steve. "These customers report that their sores went away and they can now sit for hours without any discomfort." Since LiquiCell performs better than gel, foam or air, it's even being used in hospital beds to prevent pressure sores and skin breakdown for patients who cannot move.
One Seat Cushion Size Doesn't Fit All
Steve quickly discovered that one cushion size definitely wouldn't fit all. Ergo21's biggest challenge has been to accommodate all kinds of users and their different sizes, weights and needs, plus the seemingly endless variety of office and home chairs, car and truck seats, wheelchairs, patio chairs, and travel seats – all of which demand cushions of varying sizes and shapes. "We poured over thousands of marketplace reviews and cushion designs and every review we received for our own cushions," says Steve. "I even called many Ergo21 users personally to see how we could improve our product line, and then it was back to the drawing board."
Personal Interaction With Customers
This personal interaction with consumers is a big reason why Steve joined oGoing. He appreciates the platform and exposure to 12,500 businesses offered by the network. Steve also believes that oGoing has been a big help with his company's biggest challenge: promoting Ergo21 cushions to target markets via social media and other online channels. In fact, he's received quite a few calls from HR managers on oGoing looking for a solution for their employees who sit all day long at their desks and or drive long distances. However, Steve's presence on oGoing essentially reflects his business philosophy of making sure Ergo21 provides excellent customer experience. "We want to provide our customers the comfort they are looking for," says Steve. "We feel a deep sense of gratitude when customers call us and say that our cushions have changed their life."
Ergo21 Finds An Answer, Actually Five
The result: Ergo21 now offers five cushions specifically designed for different applications. Each model reduces fatigue and helps with tail burn and buttock, hip, leg, and sciatica pain. Many of Steve's customers have tried 10 to 12 cushions before finding a Ergo21 solution, and they've contacted him about their success stories. One man who had injured his tailbone seven years ago and couldn't drive more than 10 minutes without pain called to say that the first time he tried the Sports Cushion, he drove 180 miles pain free. Ergo21 has recently introduced pillow cushion, mattress overlay and bike cushion. Another interesting fact: All Ergo21 seat cushions are proudly made in USA.

This is the best gel seat. I have tried so many that were lumpy. This seat is retaining its shape after lots of use! I use this seat in the car. This seat really helps cushion your neck when you hit a pothole. I loved the seat so much that I ordered it for friends driving across the country. It is expensive and totally worth it! – Save-a-life-rescue-your-next-pet
Thanks Save-a life 🙂 "This is the best gel Seat" coming from your lips makes us feel proud of the hard work we put in the design of this cushion. And, thanks for noticing the High Resilience Foam that we used. It is a little expensive, but worth it. I have a collection of cushions in my closet with foam that I did not like. We tested many different foams. I was looking for a foam that would provide the proper support and buoyancy, but would not create pressure points. Also, the foam should not lose its shape and become lumpy after repeated sittings. The slope we designed in this cushion went through a lot of changes until the correct angle was decided upon. This angle relieves the pressure under the thighs and works with the four LiquiCell Membranes, two under the thighs and two under the legs to promote blood flow. Many have written to us, how their leg pain, buttock pain, sciatica went away. This angle was needed in the contoured design of this Original Cushion. Our other two cushions, the Coccyx and the Sports are square and the angle is not needed. These two cushions have a different feel and work better with an individual who is 175/180 lbs plus. And someone who has severe back issues like herniated discs, extreme back pain etc. I always recommend to get two cushions. The Original and either the Sports or the Coccyx. We sit in different chairs that have different level of construction and foam. This way you can use for example the Original on your computer Chair and use the Sports or Coccyx on the chair with no foam or in a car that has sub standard cushioning. We just released our Ergo 21 Lumbar Cushion which got really great reviews. I won't say much. But here is one review: This product makes my life so much better. 5 STARS – By Connie Richards on June 9, 2015 Size: 18″ x 18″ x 2″ Verified Purchase After purchasing at least 20 other lumbar cushions, this is the ONLY one that truly works. I am going to try the Ergo21 seat cushion next. I intend to bring this lumbar cushion to my next pain management appointment, so that maybe the doctor can recommend to some of his other patients. This is my best design ever and my favorite. I too have about nine different Lumbar Cushions. Most of them have the annoying hump/bump that digs into the back. Over time they all landed behind my couch. We used the HR Foam lined with the LiquiCell Membranes. This provides deep rest and relaxation and the Membranes keep the nutrients flowing in the spine without creating hot spots. I love to see the expression on people's faces when they first lean on it. Priceless 🙂 Thank you again for getting our cushion for your friends! You are a good friend :)Best Regards, Steve Gambhir -Product Specialist
I was very skeptical about this cushion, especially when I saw how thin it was. What a pleasant surprise. Not only does it feel good but the pain I had in my legs disappeared. I had no idea it was related to what I was sitting on. I highly recommend this cushion. I have purchased many cushions in the past but none have worked like this one. – Wayne
Thank you Wayne for the nice compliment. Before I started to work on the design of this cushion, I looked at many different cushions out there. I even bought one from a local pharmacy for $19.99 that came in a fancy box, that was 3 1/2 inches thick and I said to myself I have a daunting task to convince someone why they should spend $90 (without shipping cost) on our cushion.. When I tried this cushion on a chair I noticed that it was not big enough from front to back. It cut off circulation midway under my thighs. Not only that, I just sank in on the fluffy foam and noticed that it was difficult to move around. This caused stiffness in my lower back in 5 minutes. This made me look around for a High Resilience foam that would not sink but keep one properly supported like the one you see on airplanes and high end movie theaters. We got about 7 different densities of this foam to test before I chose the one we now use in our Sports Cushion. This allowed us to keep the thickness to 2 inches. Keep in mind a 3 1/2 inch foam looks good on paper and makes you think you are getting better comfort, but it also raises you higher and can be problematic to use in a car or some chairs or if you are already tall, not to mention the fact that most of these cushions are sized only about 15 inches from to back, thereby cutting off circulation under the thighs for folks who are 175 lbs. and above. Also, they only reach half way on a regular chair. We also found that gel, foam or air was not enough to neutralize the pressure points when our body comes in contact with the surface. We chose LiquiCell Technology -Liquid Filled Membranes for the following reasons: Long Term Blood Perfusion When Sitting on Three Different Cushioning Materials Goossens, Delft University of Technology, (Video and white paper available on our site) Delft University conducted a study to determine the affect of various cushioning materials on blood perfusion (flow) over time. The aim of the study was to compare blood perfusion in the tissue in a live setting as opposed to a laboratory to get a more accurate reflection of real life conditions. The results of the study show that from the initial point of contact to some time later, LiquiCell actually improves blood perfusion by 150%, whereas gel and foam show a decrease in blood perfusion. Using an innovative combination of a low viscosity fluid and strategically placed seal points that control the flow of liquid, LiquiCell reduces discomfort associated with prolonged contact between the body and an object. By equalizing perpendicular pressure at the point of contact (thus reducing pressure), soft tissue compression is greatly reduced thereby significantly reducing skin friction and soft tissue shear stress. This also provides relief from tail burn, fatigue and fidgeting. The top covering we use was carefully selected to enhance micro movements to keep the nutrient and circulation going. The bottom has the highest grade of Vinyl used in high end sofas to support the weight and equal distribution, Our supplier assured us that there was no higher grade out there than the one we used. Medical and scientific evidence proves that while gels, foams and air do provide some relief of discomfort through perpendicular pressure reduction, they do not protect against the harmful effects of friction and shear stress, two of the most influential factors related to discomfort, pain and trauma (pressure sores). Each LiquiCell pad is specifically designed and customized to meet the needs of the product application. Thin, light weight and extremely pliable, the pad is comprised of four urethane membranes sealed around a low viscosity liquid. Seal points control the flow of liquid to equalize pressure and provide a cushiony lubrication at the point of contact on the body. LiquiCell and the High Resilience Foam allows us to keep the thickness at 2 inches in our Cushions. Hand stitching the four LiquiCell membranes so that they are under the tail bone and the thighs adds to the cost. We chose to make this in USA Los Angeles, 45 miles from our office in Newport Beach, CA to keep an eye on quality and we wanted to be able to make improvements along the way. Besides, we wanted to create jobs in our local community. We added a Regular size recently, which is slightly smaller than the Large size you got. We recommend Large in any type of automobile, SUV or truck and office or home chair that can accommodate the 18 X 17 X 2 inch size and for chairs that are smaller, we recommend the Regular Size 17 X 15.5 X 2 inches. Last month we introduced our Ergo 21 Coccyx Cushion with a cut out under the tailbone, which is essentially the Sports Cushion with a plusher crushed velvet fabric. We designed this in such a way that you can just rotate it and use it like a regular cushion, with the LiquiCell Membranes still providing the comfort around the tailbone and thighs.There is hardly any cushion out there that does this. I am happy to say that last week we also introduced our much anticipated Ergo 21 Lumbar Support Cushion, now available on Amazon. You can read the story behind its creation in the Description section on Amazon and on our site. We constantly read every feedback and reviews and thousands of reviews of other cushions out there and take the knowledge and suggestions and keep making improvements. Our philosophy is to make every effort to provide the best possible comfort. We realize that there is no one cushion solution for all body types,weights, chairs, cars and situation, That's why we have 3 different styles, plus the Lumbar Support Cushion to meet the different needs. Most of our clients get one of our Original and either the Sports or the Coccyx model to use in a variety of places. This way you can use one that works best on your office chair, kitchen chair, plane, seminars,concerts and the other in your automobile. We are here to provide an excellent customer experience. Feel free to contact me anytime I can be of assistance:) Best Regard, Steve Gambhir – Ergo 21 – Product Specialist/Designer
Best cushion I've owned. I have 2 herniated discs, a previously broken tailbone, sciatica and degenerative disc disease. I have used pillows, air cushions, gel cushions, various forms of contour cushions and rarely have I actually been "comfortable" while seated in my wheelchair. This cushion works as well as advertised. If you hurt, especially in the lumbar and tailbone region, this is a great help. Pros: Provides excellent comfort and support. Has a nice brushed/crushed velvet type fabric cover. Doesn't slip, slide or compress. Arrived very quickly without excessive packaging. Cons: None – J.R.
Dear J.R. This is Steve Gambhir, Product Specialist/Designer at Ergo21 That is the best compliment you gave us when you wrote: Cons: None! Thank you for noticing the High End Black Velvet Fabric. I kept looking for the best fabric to use so that the cushion gives a royal, luxurious look and feel. It was a little expensive, but the feeling is priceless. My Dad who was a true entrepreneur told me to not cut corners when it comes to comfort and durability. My team wanted me to keep the pricing below $50 because of all the competitive cushions out there. I stuck to my guns and wanted to make a Superior Cushion with the right Foam, fabric and bottom. We also chose the highest Grade Sofa Quality non skid waterproof vinyl bottom to support the body weight. The Supplier even assured me that there was no better Vinyl than the one we used. After prowling the web to look at all the other cushions that were out there, I even went ahead and decided to make it in two sizes. Most of the cushions out there are small and medium and when someone is 170 pounds and over, they cut off circulation under the thighs. It is not easy to carry two different SKU's but in the long run I knew that if we are going to provide comfort, then two sizes were a no brainer. Also, another design element that I took into equation was that the Coccyx cut out is good when your tail bone is hurting, but when it is not, then I implemented the drawing in such a way that you can simple rotate it and use it like a regular cushion. In either configuration the LiquiCell Membranes remain around the tail bone and the thighs to keep the blood circulation going. This prevents numbness, fidgeting and tail burn. Thank you so much for taking the time to write a few words of encouragement. It makes us work even harder. We just released our Ergo 21 Lumbar Cushion. You can check it out on Amazon and read in the description the story behind its creation. Feel free to contact me anytime I can be of service:) Best Regards, Steve Gambhir – Ergo21 PS: LiquiCell is being used in hospital beds for patients who cannot move to prevent Skin breakdown and sores and also in Recliners for Dialysis patients who have to sit for long periods of time for treatment. The more you sit on it, the less pressure on your tail bone and skin tissue. This is explained in the video on our website. I wish you all the success and happiness and may your journey on this planet Earth be a pleasant and pain free one 🙂
What Customers Are Saying…
"I am now able to work without having to stand at intervals. I experienced no pain while sitting and was able to work a full day. I am now a believer in the Ergo21 Comfort Seat Cushion and have told others about it." — Kathy, CA "This is a great product! I have a 35 minute commute each way everyday and was beginning to get symptoms down my left leg. After using this cushion, those symptoms disappeared." — Joseph, CA "It is surprising what a difference it makes. It doesn't seem like it is going to be able to help and then you try it and you immediately notice the difference." — Robert, Amazon
"I love my dance practice and ballet class. I have the Ergo21 Shoe Insoles in all my shoes and they simply are amazing.I would strongly reccommend these to anyone!" — Ashley, CA "I have Sciatica and on long trips I have a hard time with my leg hurting. I have only taken one semi long trip using it but it seems to be helping with the pain." — Bargin Shopper, Amazon "I purchased Ergo21 nearly two months ago to replace a gel cushion, which I had purchased barely 6 weeks earlier. It's for my office chair, which I use for 8 to 10 hours a day – every day. It provides me uniform support and cushioning without being bulky. I'm exceedingly happy with it." — L. Jha "LJ", Amazon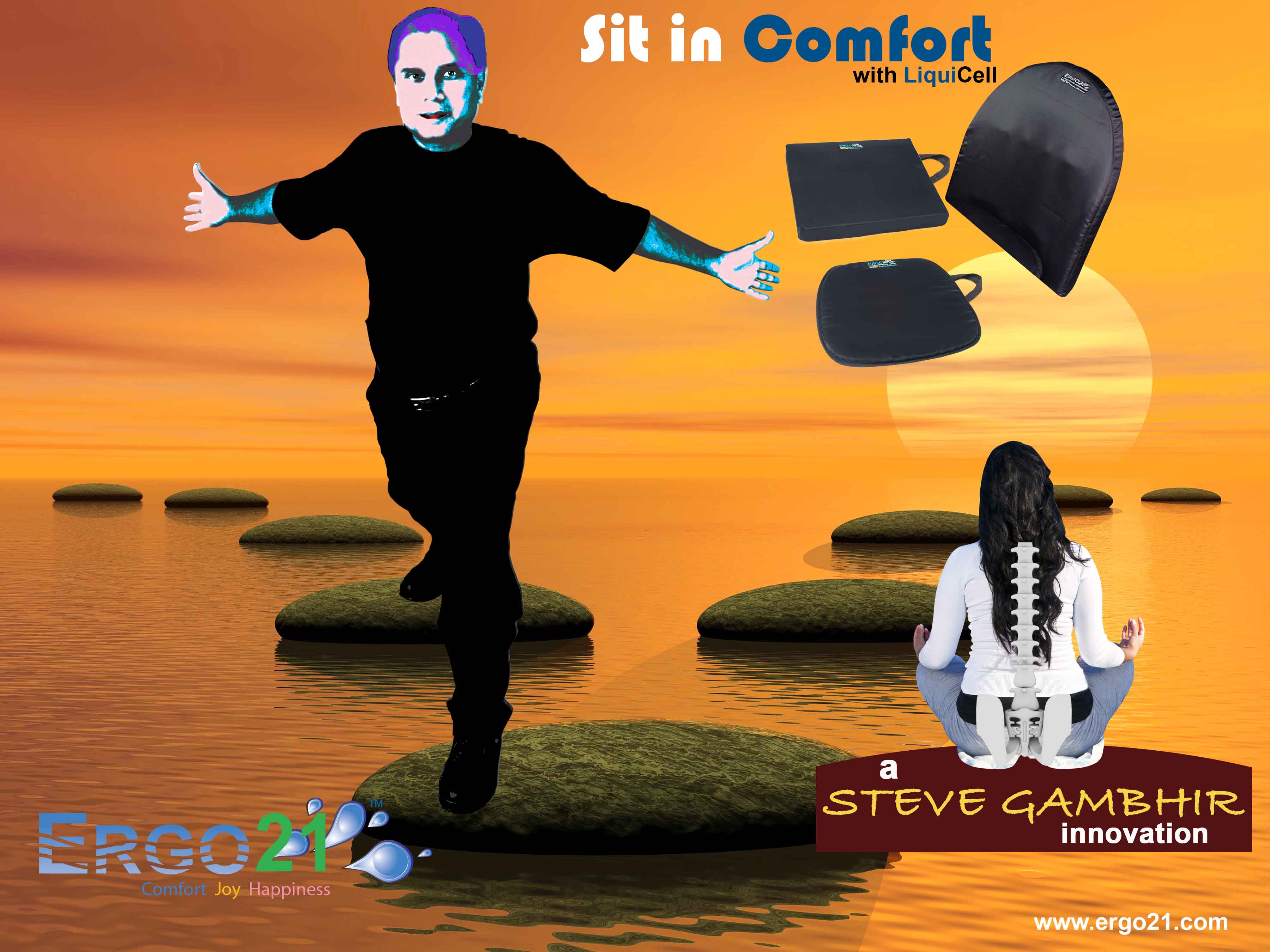 *Individual results may vary for medical conditions please contact your physician.