Leave behind your tired and achy backside with our Ergo21 Ergonomic Coccyx Cushion! With the power of advanced LiquiCell Technology, our seat cushion makes it possible for you to sit for hours upon hours without aches or soreness.

An aid for;
buttock pain – hip pain – groin pain – leg pain – sciatica and other issues involving sitting.
What LiquiCell Will Do for You…
LiquiCell is medical technology that protects skin tissues from being stretched and torn. Ultra-thin cells contain liquid that's in constant motion allowing your body to glide and float. What this means to you; is instant comfort, reduction and elimination of numbness, fidgeting, and tail burn.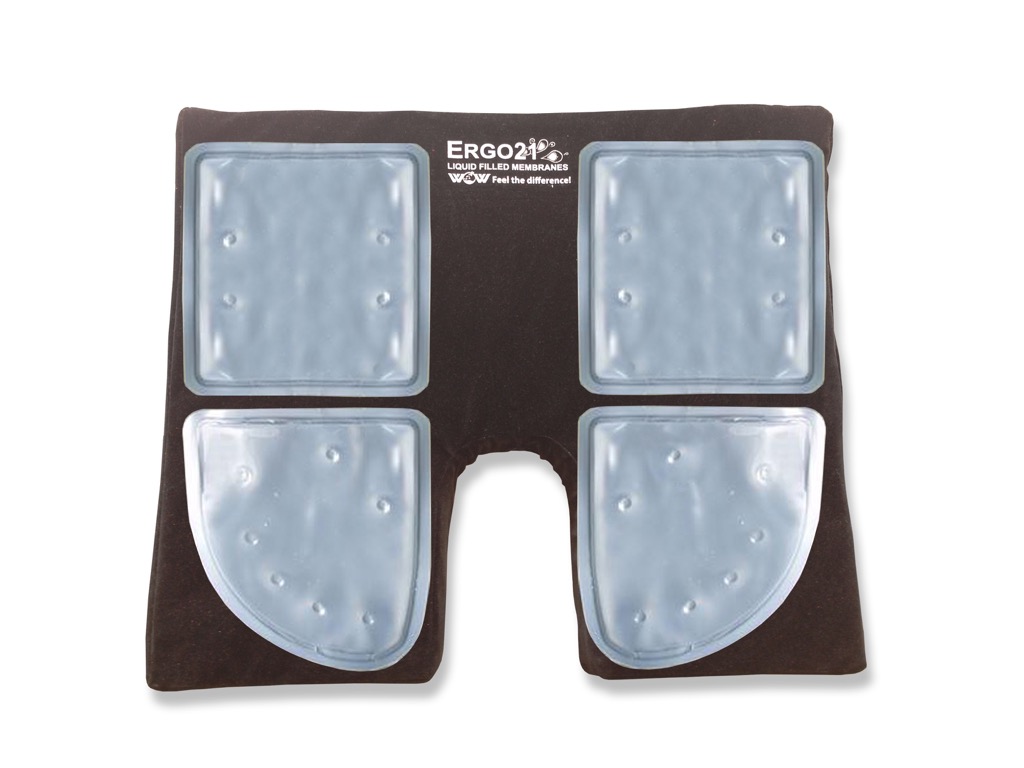 4 Sizes Available.
Regular Size:
Specs: 17″ x 15.5″ x 2″
Weight: 1.75 lbs
Recommended for those who weigh up to 175lbs and are up to 5'9″
Large Size
Specs: 18″ x 17″ x 2″
Weight: 2 lbs
Recommended for those who weigh 175 lbs.+
Large Deluxe Size
Specs: 18″ x 17″ x 2.5″
Weight: 2 lbs. 4 oz
Recommended for those who weigh 200 lbs.
Extra Large Size
Specs: 20″ x 18″ x 2.5″
Weight: 2 lbs. 11 oz
Recommended for those who weigh 250 lbs.
(For Cars, Trucks & Suv's we recommend the Large or Extra Large)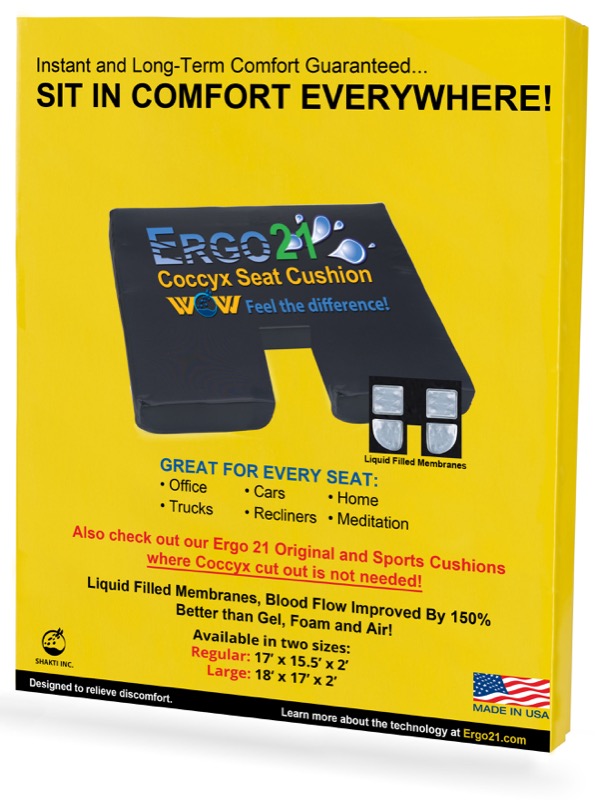 Coccyx Edition
Special Rear cut out to help relieve pressure on tail bone
Great for every seat, such as:
Home • Office • Cars • Trucks • Recliners • Meditation • Wheelchair • Church • Recreation • Concerts
Highlights of our Ergo21 Coccyx Cushion
We studied the various coccyx cushions out there and after pouring through thousands of reviews went to the drawing board to come up with what we feel is the best Coccyx Cushion.
Our Ergo21 Coccyx Cushion was designed so that it can be used as Coccyx Cushion with a cut out at the tailbone; or simply rotate it and use it as a regular cushion. In either case the four LiquiCell Membranes remain around the tailbone and thighs.
Our Ergo21 Coccyx Cushion surely has the WOW factor and will put a smile on your face! Our Ergo 21 Coccyx Cushion is more comfortable than a gel coccyx cushion or a foam coccyx cushion. 
Comes in three sizes. Regular, Large and Extra Large. There are hardly any cushions out there that can accommodate individuals who are on the heavy side. This is a big plus. A small cushion cuts off circulation under the thighs.
We have added Liquicell Blood Flow Technology – Four liquid filled membrances – Two under the tail-bone and two under the thights to prevent sores and skin breakdown from vertical pressure. A video on our website explains the technology. This technology is also used in hospital beds for burn and stoke patients who cannot move. Also, a famous recliner maker is using it in recliners for Dialysis Patiens who have to sit long hours for treatment. You can also find a $6,000 Office Chair on Amazon with this technology.
Our cushions are made here in Los Angeles, USA. We use the High Resilience foam that retains the shape after repeated sittings for years to come. In addition a top fashion designer was inolved with the fabric selections and construction to make all our Cushions looks sleek, modern, and high end!
---
NO OTHER CUSHION COMES CLOSE TO ERGO21 COMFORT SEAT CUSHION! YOU DEFINITELY GET WHAT YOU PAY FOR –
IT'S SIMPLY AMAZING!
– Mark Rodgers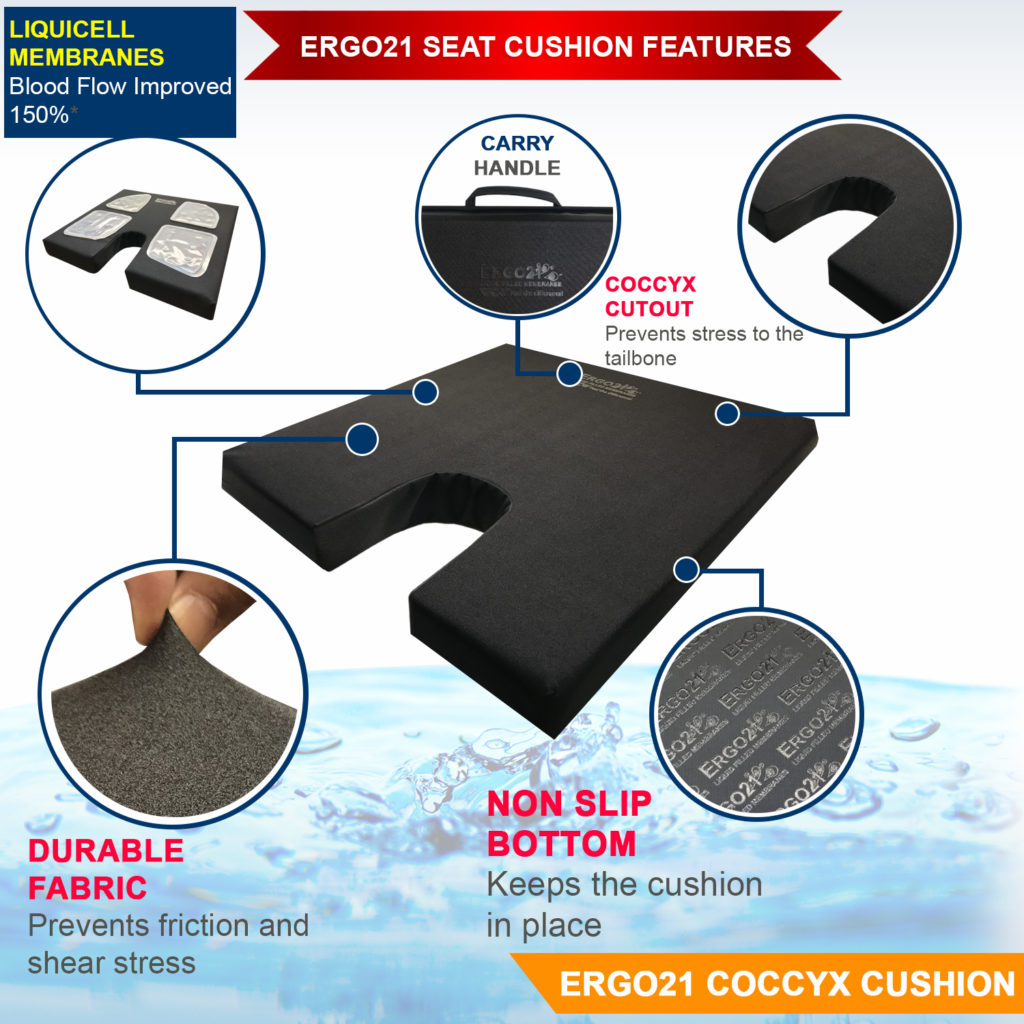 What Customers Are Saying…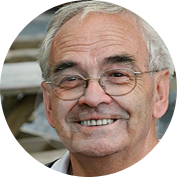 "I am a sports fan and the seats at the stadium are hard and uncomfortable. With this seat cushion it's a pleasure to enjoy my favorite games without butt-ache." – M. Morris
"I can now sit longer and more comfortable on my wheelchair without any soreness. It has a nice carry handle and I also often use it on my bench in the backyard." – Nirmal .K

Over 150% improvement in circulation
Reduces soreness in tailbone & back
Sit in comfort everywere you go


Watch this video to see our Lumbar Support Cushion in Action!
Reviewed Our Seat Cushions!
"I really like the lumbar cushion in the car. I feel like it helps prevent me from rolling my shoulders forward because I have something to push my shoulders into. I have always thought car seats are not designed very well, and kind of encourage you to have bad posture. I feel like the lumbar cushion helps get me in that neutral position."

– Doctor Jo
LiquiCell vs Gel, Foam & Air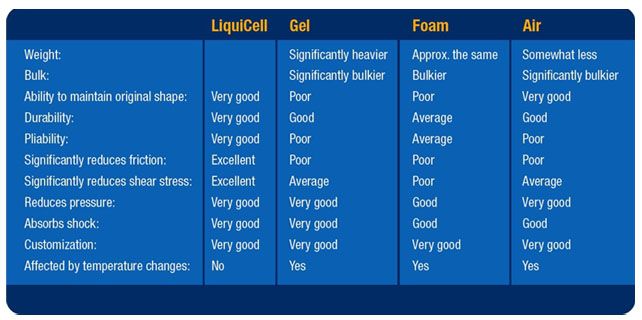 Clearly The World's Best

(Gel, Foam & Air are all inferior in side-by-side comparisions.)
Long Term Blood Perfusion When Sitting on Three Different Cushioning Materials"
Goossens, Delft University of Technology, March 2006
Delft University conducted a study to determine the affect of various cushioning materials on blood perfusion (flow) over time. The aim of the study was to compare blood perfusion in the tissue in a live setting as opposed to a laboratory to get a more accurate reflection of real life conditions. The results of the study show that from the initial point of contact to some time later, LiquiCell actually improves blood perfusion by 150%, whereas gel and foam show a decrease in blood perfusion.
ADDITIONAL RESEARCH AND RESOURCE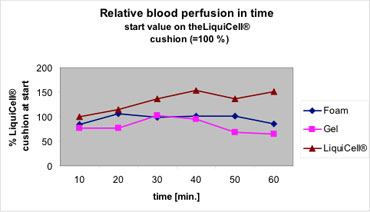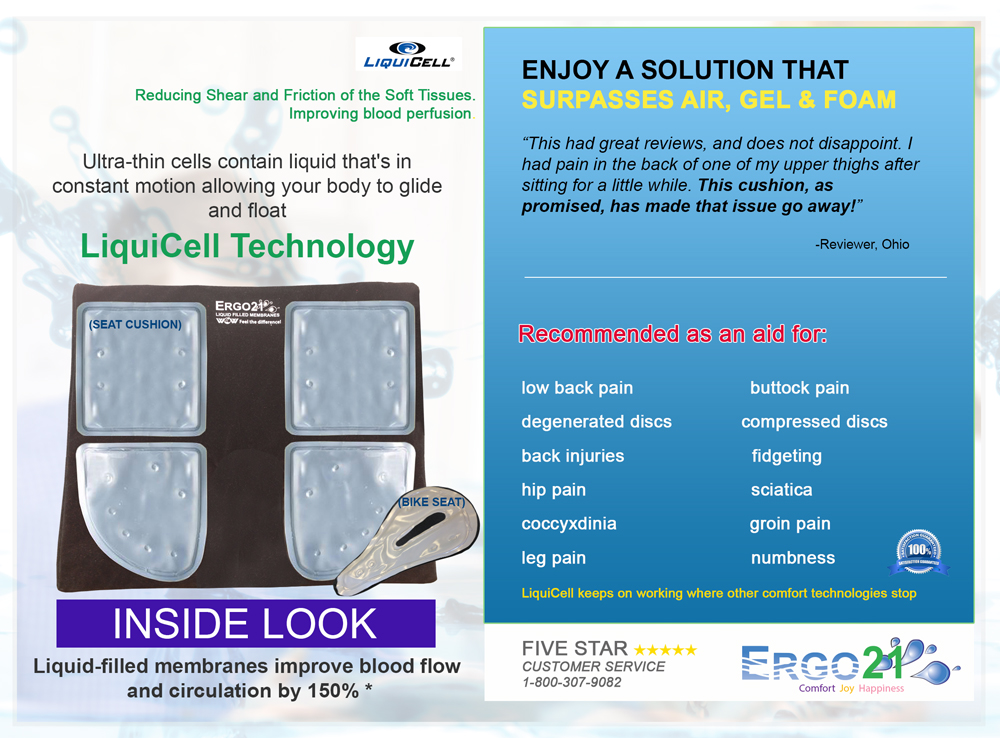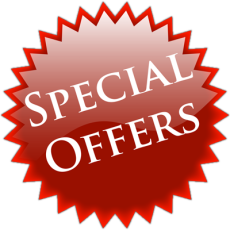 $89.95

When You Order 2
or More Any Cushions
FREE SHIPPING!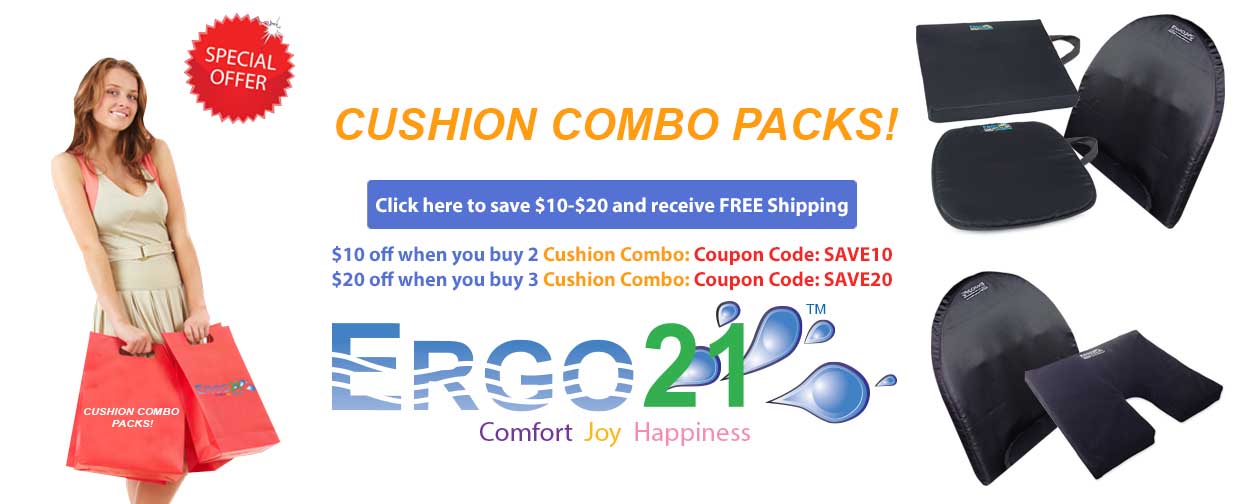 ERGO21 COCCYX SEAT CUSHION REVIEWS
***** Works Great! – This coccyx cushion can be used as a regular cushion-Just turn it around.
This has worked great for my husband in relief of his tailbone pain.
By Beth Sanders – Verified
**** I liked it so much that I ordered two more…
I have spinal stenosis. This is the first seating pad I have found that relieves some of my symptoms. I liked it so much that I ordered two more so that I now have one on my office chair, one for moving around the house, and a third for my car. This also gives me coverage for when I travel outside my home.
By Marshmallow – Verified
***** Great Cushion and exceptional customer service!
I purchased both cushions original and coccyx. They are very comfortable and relieve pain. Well worth the money. They do not press on your legs, they do not lose the form and both are very convenient to use in the car. The customer service is exceptional, all questions are answered immediately and they also give you an advice. Thank you, great product!
By Book Lover – Verified Amazon
***** My rear end usually gets very sore…
Just got back from driving my new Motorhome for over 3800 miles and I could have never done it without this product. My rear end usually gets very sore sitting for long periods but this cushion was amazing. I need now to buy one for my wife as she complained that we were driving too long.
By Amazon Customer – Verified

Best cushion I've owned.

I have 2 herniated discs, a previously broken tailbone, sciatica and degenerative disc disease. I have used pillows, air cushions, gel cushions, various forms of contour cushions and rarely have I actually been "comfortable" while seated in my wheelchair. This cushion works as well as advertised. If you hurt, especially in the lumbar and tailbone region, this is a great help.

Pros: Provides excellent comfort and support.
Has a nice brushed/crushed velvet type fabric cover. Doesn't slip, slide or compress.
Arrived very quickly without excessive packaging.

Cons: None

– J.R.
Dear J.R.
This is Steve Gambhir, Product Specialist/Designer at Ergo21

That is the best compliment you gave us when you wrote: Cons: None!

Thank you for noticing the High End Black Velvet Fabric. I kept looking for the best fabric to use so that the cushion gives a royal, luxurious look and feel. It was a little expensive, but the feeling is priceless. My Dad who was a true entrepreneur told me to not cut corners when it comes to comfort and durability.

My team wanted me to keep the pricing below $50 because of all the competitive cushions out there. I stuck to my guns and wanted to make a Superior Cushion with the right Foam, fabric and bottom. We also chose the highest Grade Sofa Quality non skid waterproof vinyl bottom to support the body weight. The Supplier even assured me that there was no better Vinyl than the one we used.

After prowling the web to look at all the other cushions that were out there, I even went ahead and decided to make it in two sizes. Most of the cushions out there are small and medium and when someone is 170 pounds and over, they cut off circulation under the thighs. It is not easy to carry two different SKU's but in the long run I knew that if we are going to provide comfort, then two sizes were a no brainer.

Also, another design element that I took into equation was that the Coccyx cut out is good when your tail bone is hurting, but when it is not, then I implemented the drawing in such a way that you can simple rotate it and use it like a regular cushion. In either configuration the LiquiCell Membranes remain around the tail bone and the thighs to keep the blood circulation going. This prevents numbness, fidgeting and tail burn.

Thank you so much for taking the time to write a few words of encouragement. It makes us work even harder. We just released our Ergo 21 Lumbar Cushion. You can check it out on Amazon and read in the description the story behind its creation.

Feel free to contact me anytime I can be of service:)

Best Regards,

Steve Gambhir – Ergo21

PS: LiquiCell is being used in hospital beds for patients who cannot move to prevent Skin breakdown and sores and also in Recliners for Dialysis patients who have to sit for long periods of time for treatment.

The more you sit on it, the less pressure on your tail bone and skin tissue. This is explained in the video on our website.

I wish you all the success and happiness and may your journey on this planet Earth be a pleasant and pain free one 🙂