2 Models Meditation Cushions
Sit on Liquid
Meditating in the 21st Century
Meditate in Extreme Comfort –with the Ergo21 Meditation Cushions!
Watch this video to see our Meditation Cushions in Action!
Reviewed Our Seat Cushions!
Now it is easy to reach Nirvana with our Ergo 21 Meditation Cushions. Our advanced LiquiCell Technology provides minimum vertical pressure on the sitting bones/ Coccyx by reducing the stress on your body for better blood flow for longer meditation sessions.

Product Description
Ergo21 Meditation Cushions incorporate LiquiCell, a medical technology that assists in the prevention of stretched or torn skin tissue resulting in optimized blood flow.
The ultra-thin LiquiCell cells contain a liquid that is in constant motion allowing the body to glide or float over the mattress.
The Ergo 21 Meditation Cushions are specifically designed for key areas of the body most susceptible to skin breakdown due to the presence of a bony prominence along with shear and friction.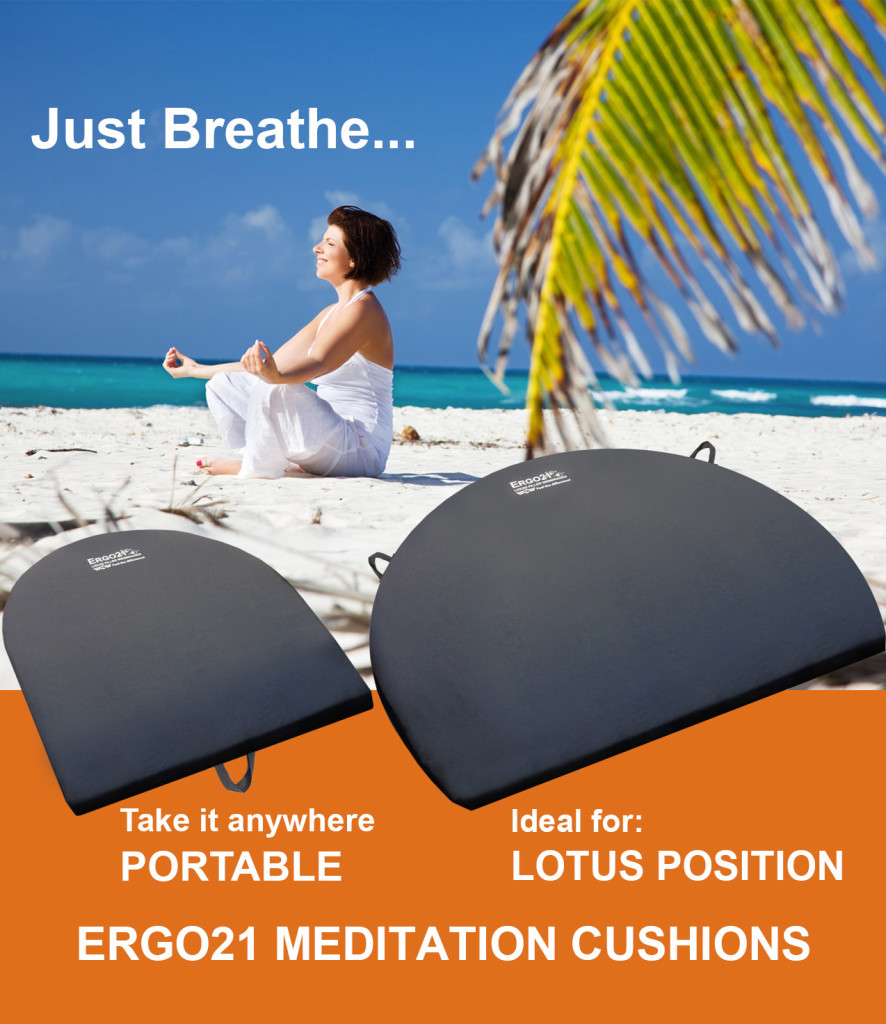 Ergo 21 Meditation Cushion – Lotus Positions More Comfortable than Buck Wheat Meditation Cushions, Zabuton or Foam Meditation Cushions.
Take pressure off of the spine, hips, ankles and calf
No more numb legs or buttocks
Improved comfort for a deeper meditation experience
Natural slope keeps spine straight and breath unobstructed
Increase blood flow & circulation by 150%
More comfortable than foam meditation cushions.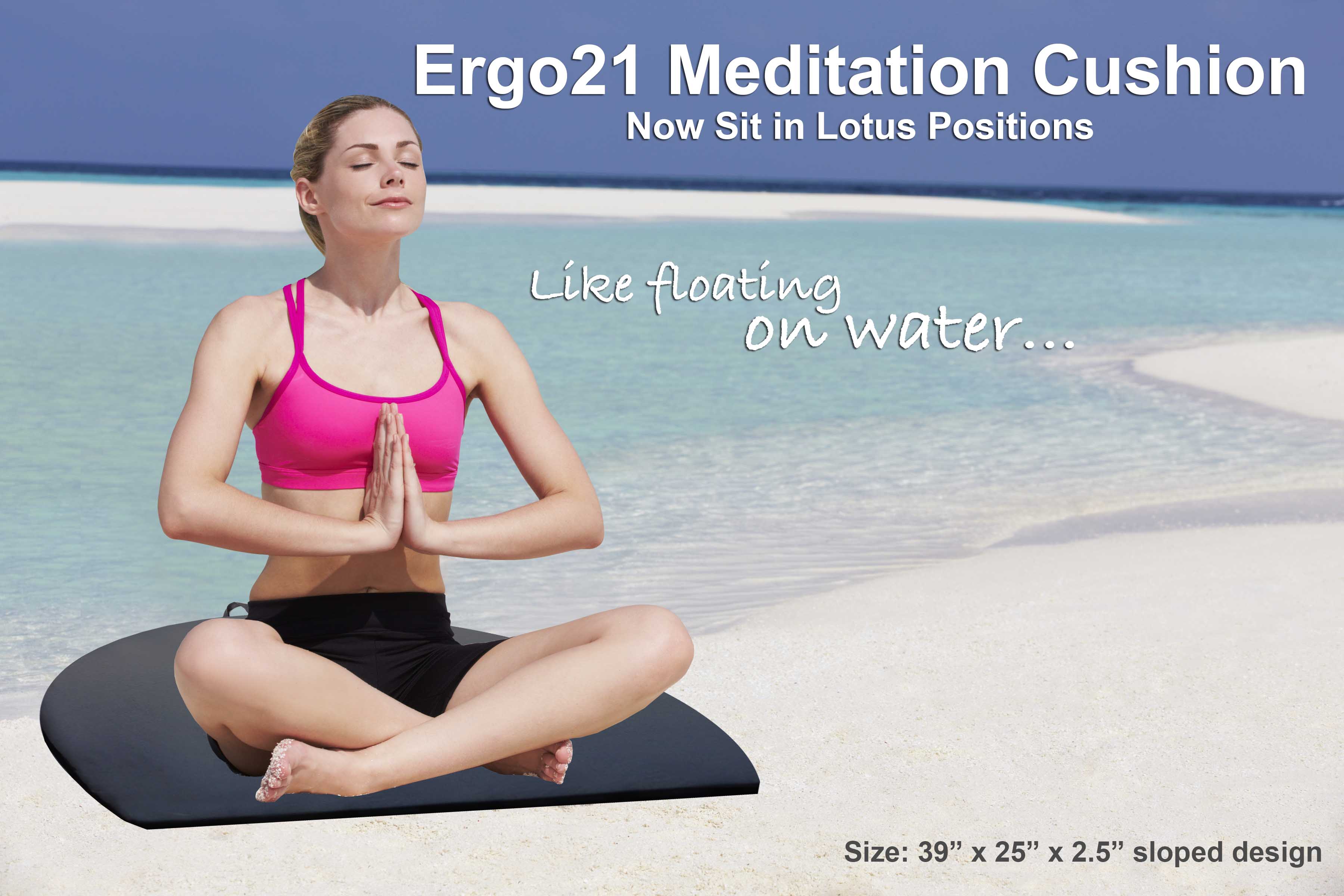 Specifications:
Size: 39 X 25 X 2.5 inches- with a gradual slope
Weight: 5 lbs. 13 OZ.
High Quality Nylon cover.
Just wipe clean with wet rag.
Four LiquiCell Membranes
High Resilience Foam provides proper support and floating feeling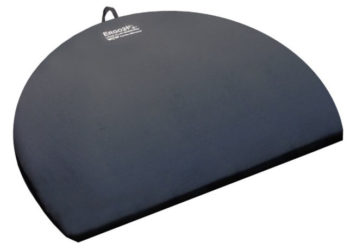 Ergo 21 Small Lumbar/Meditation Cushion - Portable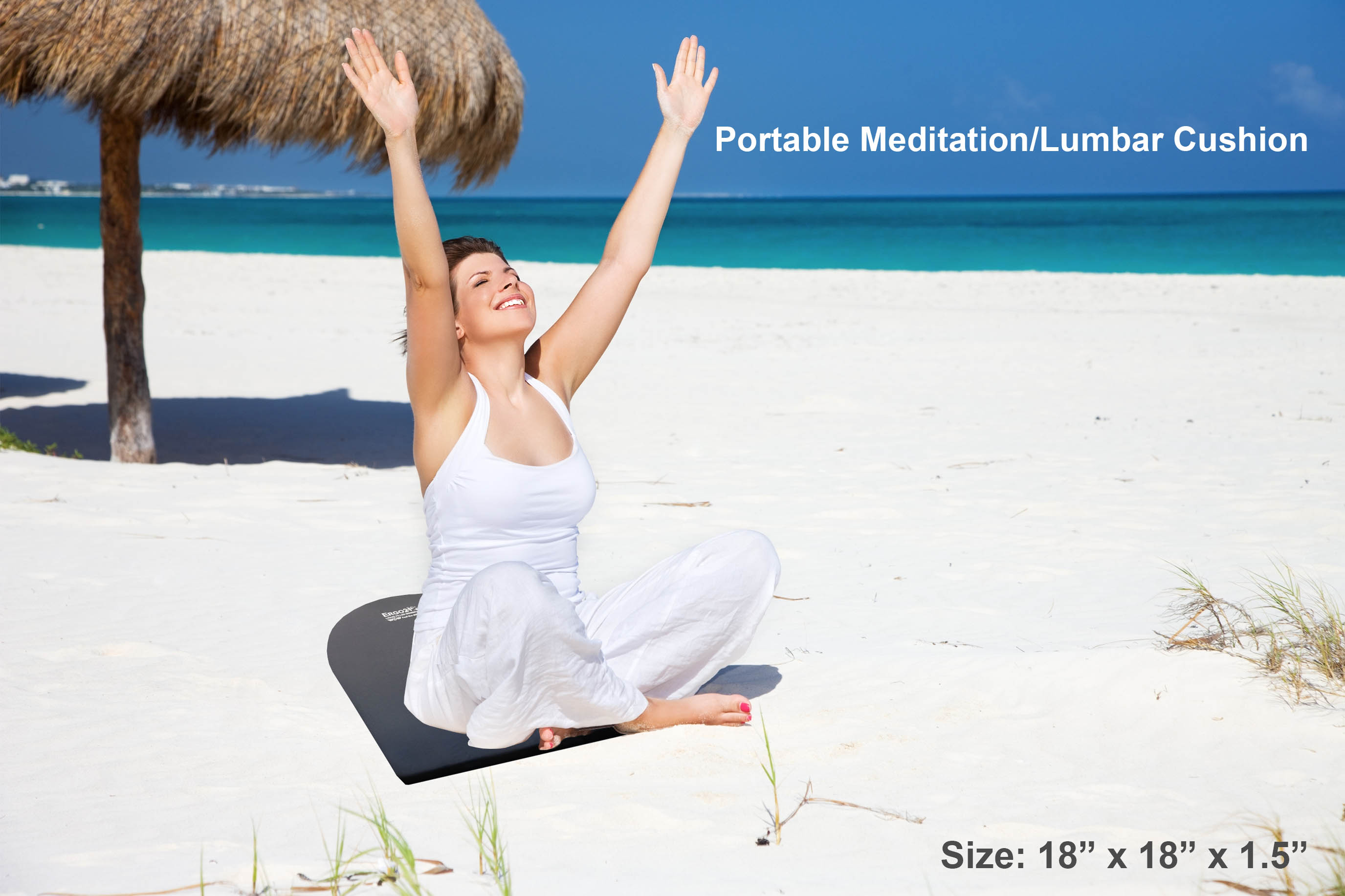 Specifications:
Size: 18 X 18 X 1.5 inches
Weight: 1.5 lbs.
High Quality Nylon cover. Just wipe clean with wet rag.
Four LiquiCell Membranes
High Resilience Foam provides proper support.
It can also be used as a Seat Cushion or a Lumbar cushion in your car, office or dining room chair.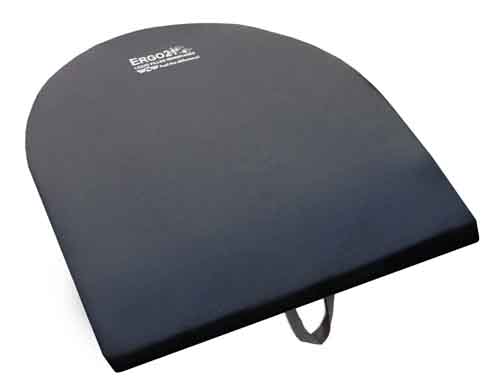 This cushion is very versatile. You can use it to meditate, yoga or corpse pose.
Just sit on the edge of the square side with the round part behind to meditate.
You can also position it under your head for floor poses or use it as a headrest while doing the Corpse Pose.
$59.95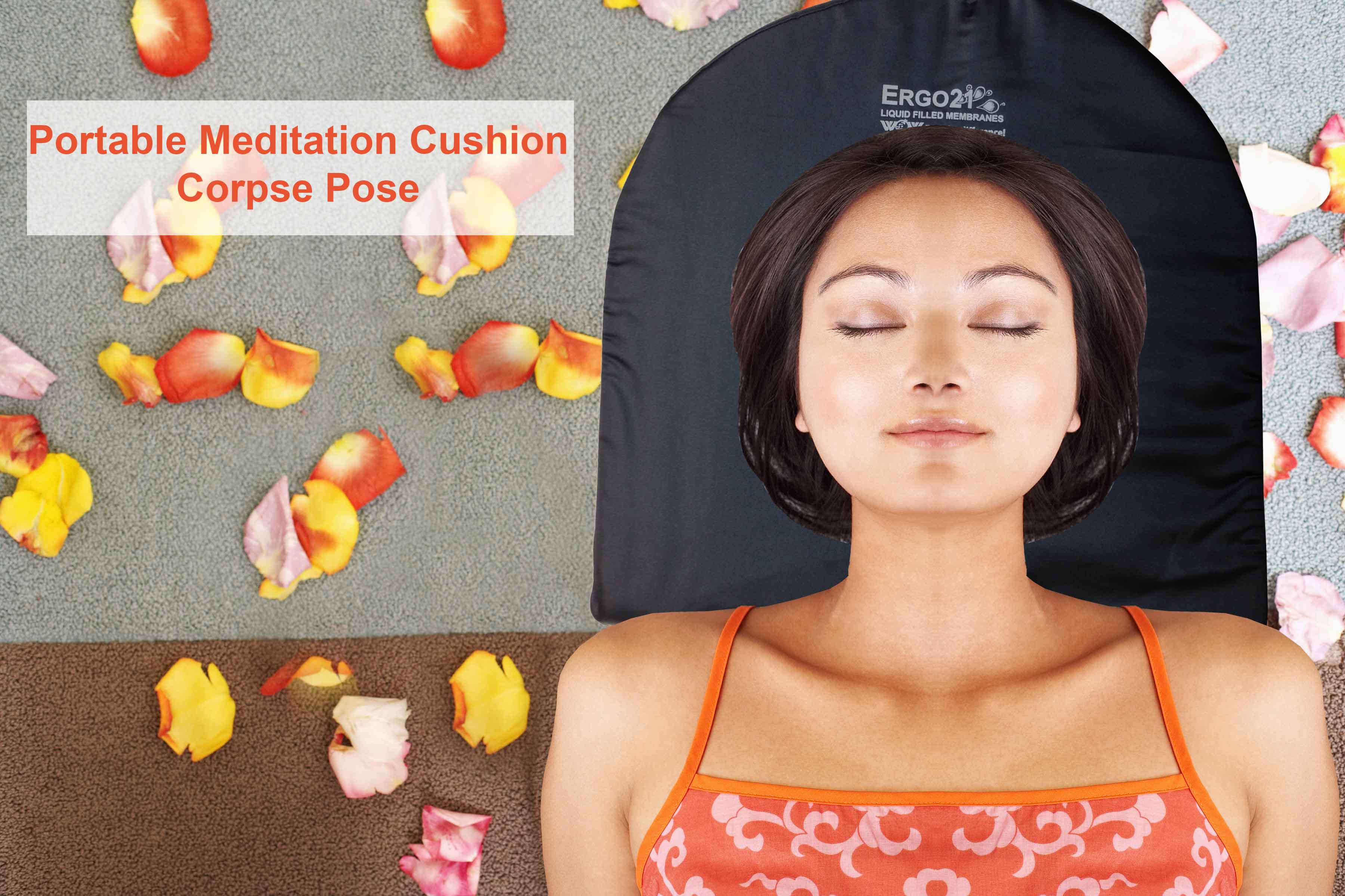 What Customers Are Saying…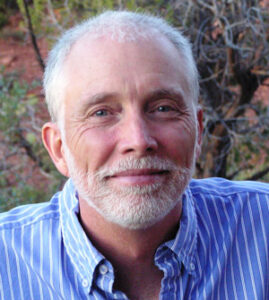 "I recently came across this cushion that makes long meditation sessions much more comfortable. It is the thin layer of fluid in this cushion that makes such a difference in comfort when sitting for longer periods of time. The cushion has 2.5 inches of foam topped with the liquid membranes, and when you first sit down, it is not remarkable in any way. But after you settle in, the increased comfort becomes obvious.
Very simply, it prevents pressure points from happening much better than other foam, gel, or air based cushions so that you do not develop soreness in your 'sitz' bones or tailbone.
This allows you to be much more still and stationary during long meditations. I have recently been meditating for 3-4 hours a day and often for 90 minutes at a time, and this cushion is a life saver, or should I say butt saver. I also spend a fair amount of time on the computer and telephone, and their Sports Cushion makes all of my sitting activities much more comfortable. Nirmala – www.endless-satsang.com

Over 150% improvement in circulation
Reduces soreness in tailbone & back
Sit in comfort everywere you go


LiquiCell vs Gel, Foam & Air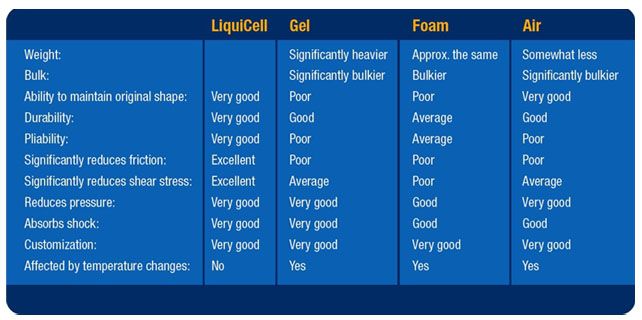 Clearly The World's Best

(Gel, Foam & Air are all inferior in side-by-side comparisions.)
Long Term Blood Perfusion When Sitting on Three Different Cushioning Materials"
Goossens, Delft University of Technology, March 2006
Delft University conducted a study to determine the affect of various cushioning materials on blood perfusion (flow) over time. The aim of the study was to compare blood perfusion in the tissue in a live setting as opposed to a laboratory to get a more accurate reflection of real life conditions. The results of the study show that from the initial point of contact to some time later, LiquiCell actually improves blood perfusion by 150%, whereas gel and foam show a decrease in blood perfusion.
ADDITIONAL RESEARCH AND RESOURCE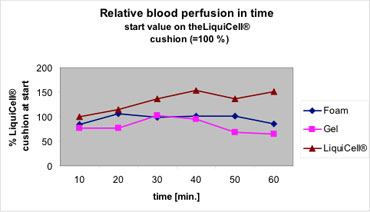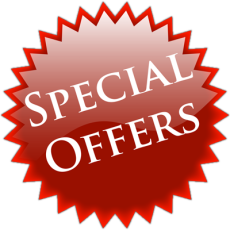 Free Shipping on orders over $99.00
Small Meditation/Lumbar Cushion - $59.95
Lotus Position Meditation Cushion - $127.00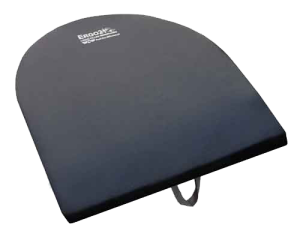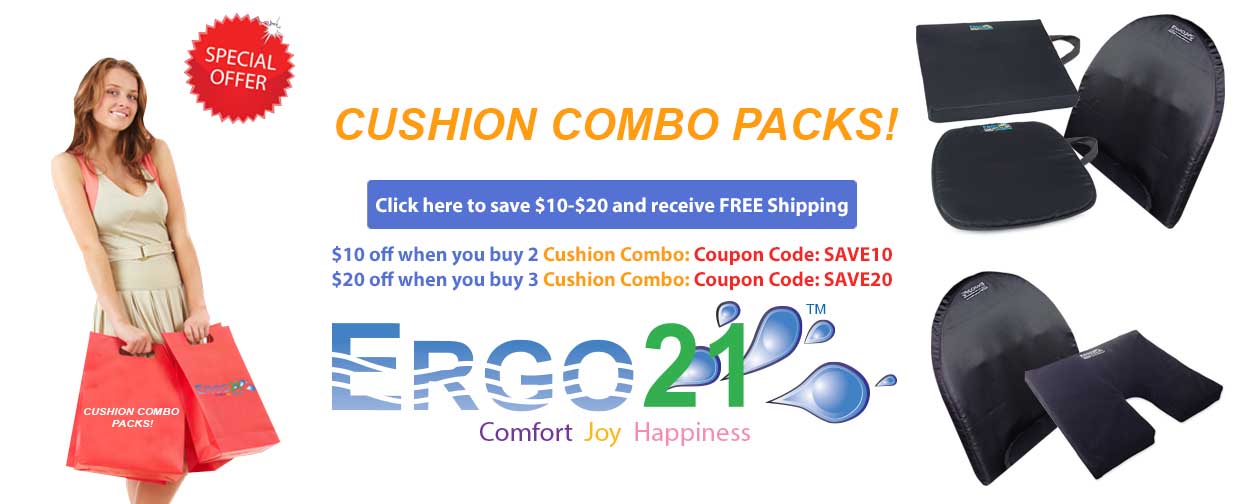 ERGO21 LUMBAR SEAT CUSHION REVIEWS
"I have been using the Liquicell sleep pad on my bed for a few days. I like the fact that it is very thin.
I just put it under my fitted sheet. I felt immediate relief of pressure under my hips. I also noticed I woke up the next morning with less aches and pain. One of my friend who is a nurse told me about LiquiCell being used in Hospital beds to prevent sores on patients who cannot move. Good Product."
— G Rose – Amazon Verified Purchase
"…Lotion was being applied to my skin constantly because of great concern over the development of bed sores.
Once [Extended Comfort Sleep Pad] was laid over my bed and positioned under the right areas, I was noticeably more comfortable. My nurse's concern over bed sores has lessened considerably because the sores I had before using the [LiquiCell Sleep Pad] are much improved and no new sores have developed."
— Char, bedridden patient – Verified

"I'm so glad I purchased this amazing product.
It fits very well under a fitted sheet as it is thin, but it certainly does it's job! The first night I slept on it I overslept by two hours the next day which is something I haven't done in years. It relieves my pressure points and helps with both my peripheral neuropathy and fibromyalgia pain. For me this will be life changing, which is priceless. I did call customer service to ask a couple of questions, and they were extremely helpful. A great product and a company that stands behind it…doesn't get any better than that!"
— LetsGoShopping – Verified

"My friends in Florida had this in their guest room.
Since my own mattress at home feels as hard as a rock, despite padding, and I find it hard to sleep through the night because of the pain on my already painful back and shoulders, I looked forward to trying out this sleep pad and it was woooonderful. I settled into a blissful sleep and woke up feeling MUCH less sore. What a Godsend!!!"
— Ace – Verified

"We placed your [LiquiCell Sleep Pad] under a woman's lumbar area, who recently recovered from minor pressure ulcers.
This patient is sensitive to all pads and wraps that are placed on or under her, but when asked about your overlay, she didn't even know she was laying on anything. This overlay is a pressure ulcer-prevention product for sensitive patients."
— Nursing Professional – Verified

"I used your mattress [LiquiCell Sleep Pad] with an elderly patient of mine who had open sores.
After just two weeks, I noticed marked improvement with the sores decreasing in size. I am now using [your sleep pad] with another patient who has a cythotic spine to heal up the onset of a sore."
— Nursing Professional – Verified

"I like to sleep on my back, but after an hour or so the back of my ankles start to burn.
Now that I have the [LiquiCell Sleep Pad] under my ankles, I can sleep soundly on my back with no ankle pain."
— Brenda – Verified

"We recently purchased a replacement mattress and it turned out to be way too firm.
Did not want to buy a bulky mattress topper as our bed is already way too high. Bought 2 of these–one for my husband's side and one for mine and we are both so pleased. Am thinking
of traveling with them as they fold up so small and would be great for those hotels that have super firm mattresses."
— Richelle P. – Verified