Seat Cushion Testimonials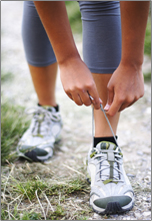 "The insoles are fantastic. I don't feel tired any more. My wife, a nurse loves them too. She doesn't leave home without them!"
— Sam, Newport Beach, CA
"I love the insoles! Not only can I walk longer, but they prevent foot cramps when I am driving. The LiquiCell in the insoles is at just the right places at the ball and heel of my foot. It makes a tremendous difference!"
— Jon, Tustin, CA
"I've been a runner for most of my life, but just started running longer distance races in the last few years, including my first marathon last year. I'm currently training for my second marathon and have started using the LiquiCell insoles in my running shoes. I'm very pleased with their performance! By replacing my insoles with the LiquiCell insoles, I've gotten more comfort without compromising cushioning and shock absorption. In fact, I ran a half marathon last weekend and didn't experience any issues with shin splints as I had in the past."
— Melanie, Bloomington, MN
"I'm on my feet all day long and over the years I've tried different insoles and orthotics, but your insoles with LiquiCell are simply the best. So thin yet so effective. I also use your LiquiCell inserts for some of my tighter dress shoes. Thanks for making such an innovative product."
— Gary, Los Angeles, CA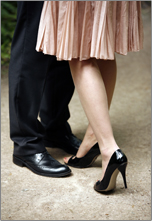 "I have so many dress shoes and sandals that I was not wearing. They looked good but were uncomfortable, and some hurt. With the LiquiCell Shoe Inserts I can wear them all day long! Ingenious!"
— Kathy, CA
"I can now wear my fashionable shoes without any discomfort. LiquiCell Shoe Inserts don't make my shoes tight. They work! Unbelievable!"
— Laura, VA
"I love my dance practice and ballet class. I have the LiquiCell Shoe Inserts in all my shoes!"
— Ashley, CA
"I used the inserts in my heels at ETAA in Vegas and I have to say — no blisters and my feet recovered very quickly! So I would say they were a success. My husband has had your inserts in his work boots and says they're great…. Thanks again!"
— Kristin, CA
"I am now able to work at my desk without having to stand at intervals. I experienced no pain while sitting and was able to work a full day. I am now a believer in the [LiquiCell Seat Pad] and have told others about it."
— Jackie R.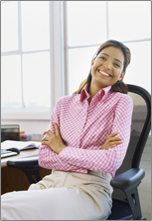 "As a part of my job, I spend countless hours in my vehicle. My first experience with the [LiquiCell Seat Pad] was a road trip of 1,200 miles in 5 days, and the relief and comfort from the pad were remarkable. Since then, I have traveled close to 10,000 miles and can honestly say that I would not leave home without it."
— Murray D.
"I purchased [the LiquiCell Seat Pad] as a gift for my elderly mother, who has been experiencing frequent discomfort and soreness when she sits for long periods. After using the cushion for the first time, on a 6-hour flight, she reported with some surprise that she wasn't sore at all. She likes the fact that the cushion is easily transportable — she can easily carry it with her whenever she expects to be sitting."
— Laura P.
"…Lotion was being applied to my skin constantly because of great concern over the development of bed sores. Once [Extended Comfort Seat Pad] was laid over my bed and positioned under the right areas, I was noticeably more comfortable. My nurse's concern over bed sores has lessened considerably because the sores I had before using the [LiquiCell Sleep Pad] are much improved and no new sores have developed."
— Char, bedridden patient
"We placed your [LiquiCell Sleep Pad] under a female patient's hip area and eliminated all redness!"
— Nursing Professional
"Prior to [your LiquiCell Sleep Pad], a male patient had a red ankle and 2 red spots on the side of his ankle. The first week after using the [LiquiCell Sleep Pad], the ankle was not so fiery red and the 2 side red spots were gone."
— Nursing Professional
"We placed your [LiquiCell Sleep Pad] under a woman's lumbar area, who recently recovered from minor pressure ulcers. This patient is sensitive to all pads and wraps that are placed on or under her, but when asked about your overlay, she didn't even know she was laying on anything. This overlay is a pressure ulcer-prevention product for sensitive patients."
— Nursing Professional
"I used your mattress [LiquiCell Sleep Pad] with an elderly patient of mine who had open sores. After just two weeks, I noticed marked improvement with the sores decreasing in size. I am now using [your sleep pad] with another patient who has a cythotic spine to heal up the onset of a sore."
— Nursing Professional
"I like to sleep on my back, but after an hour or so the back of my ankles start to burn. Now that I have the [LiquiCell Sleep Pad] under my ankles, I can sleep soundly on my back with no ankle pain."
— Brenda
"With the Extended Comfort Sleep Pad in my bed, I am immediately relaxed and sleep in a few minutes."
— Hollie