Stand in Extreme Comfort All Day Long…For Hours!
Designed and proven to reduce footwear discomfort, our LiquiCell Shoe Insoles and Inserts provide all-day comfort that exceeds gel or foam. Like walking on water!

What LiquiCell Will Do for You…
LiquiCell is medical technology that protects skin tissues from being stretched and torn. Ultra-thin cells contain liquid that's in constant motion allowing your body to glide and float. What this means to you; is instant comfort, reduction and elimination of numbness, fidgeting, and tail burn.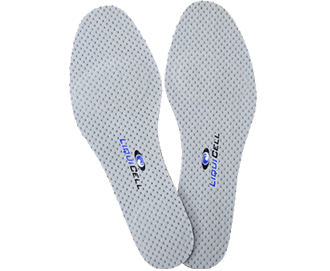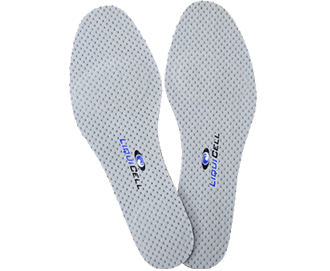 No more tired feet! • So thin yet so effective • Reduces foot friction, hotspot and fatigue • Benefits surpass gel or foam • Test results show blood flow is improved by 150%
Anatomy of a Perfect
Shoe Insole
Most widely available insoles are equipped with either gel or foam, both of which quickly wear down and require frequent replacement.
Our LiquiCell Shoe Insoles hold up better over time thanks to advanced LiquiCell technology, which relieves pressure on the foot and reduces soft tissue damage without circulating back and forth from heel to front like many other gel and liquid insoles. And unlike gel insoles, LiquiCell Shoe Insoles are thin enough that they won't make your shoes feel tight or hamper circulation.
Medical and scientific evidence proves that while gel, foam and air inserts do provide some relief or discomfort, they do not protect against the harmful effects of friction and shear stress — two of the most influential factors related to foot discomfort addressed by LiquiCell.
Ultra-thin, durable and light-weight, LiquiCell Shoe Insoles are the latest and greatest leap forward in pain relieving footwear.
I AM A PHARMACIST ON MY FEET ALL DAY LONG, TRIED MANY INSOLES AND THESE
ARE THE ONLY INSOLES THAT
KEEP ME GOING!
– M. Mangrola
What Customers Are Saying…
"I'm on my feet all day long and over the years I've tried different insoles and orthotics, but your insoles with LiquiCell are simply the best. So thin yet so effective. I also use your LiquiCell inserts for some of my tighter dress shoes. Thanks for making such an innovative product." – Gary, Los Angeles, CA
"I've been a runner for most of my life, but just started running longer distance races in the last few years, including my first marathon last year. I'm currently training for my second marathon and have started using the LiquiCell insoles in my running shoes. I'm very pleased with their performance! By replacing my insoles with the LiquiCell insoles, I've gotten more comfort without compromising cushioning and shock absorption. In fact, I ran a half marathon last weekend and didn't experience any issues with shin splints as I had in the past." – Melanie, Bloomington, MN
Over 150% improvement in circulation
Reduces soreness in tailbone & back
Sit in comfort everywere you go

LiquiCell vs Gel, Foam & Air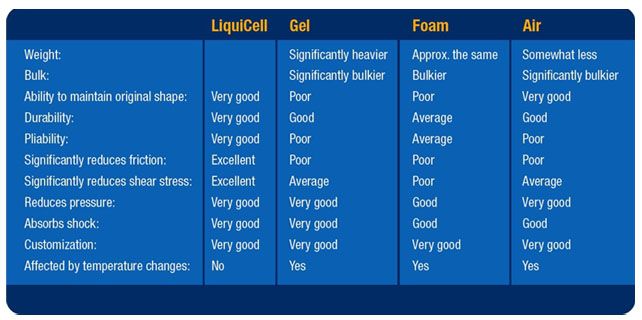 Clearly The World's Best

(Gel, Foam & Air are all inferior in side-by-side comparisions.)
Long Term Blood Perfusion When Sitting on Three Different Cushioning Materials"
Goossens, Delft University of Technology, March 2006
Delft University conducted a study to determine the affect of various cushioning materials on blood perfusion (flow) over time. The aim of the study was to compare blood perfusion in the tissue in a live setting as opposed to a laboratory to get a more accurate reflection of real life conditions. The results of the study show that from the initial point of contact to some time later, LiquiCell actually improves blood perfusion by 150%, whereas gel and foam show a decrease in blood perfusion.
ADDITIONAL RESEARCH AND RESOURCE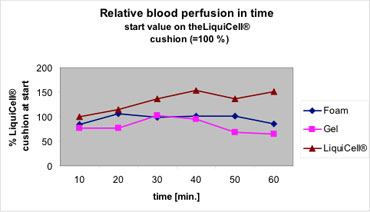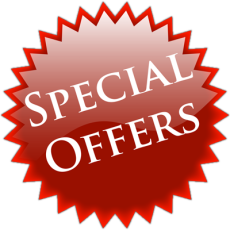 Special offer:
$25 for one or $20 each
When YouOrder 2 or More Plus
FREE SHIPPING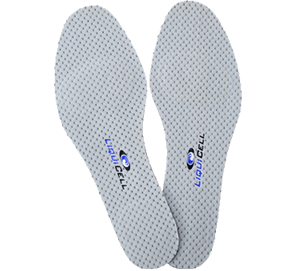 Shoe Inserts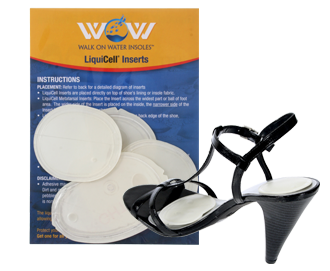 LiquiCell Shoe Inserts are designed especially for women's high heels, open toe shoes and sandals. Just peel off the Wax paper and stick them at where the ball of the feet and heel of feet land. Step into Liquid – Experience walking on a very thin layer of water. LiquiCell is designed to improve comfort and reduce fatigue over time. Better than Gel or Foam. Next time you plan on standing or walking for an extended period, use the LiquiCell Shoe Inserts. We think you'll like them so much you'll want a pair for all your shoes! (LiquiCell Inserts can be used in Men's tighter shoes where Insoles make the shoe fit tighter)
Instructions: Just peel off the wax paper and stick it on your sandals or high heels at the ball of the feet and the heels.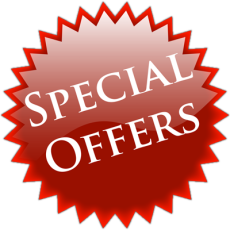 Special offer:
$15 for one or $12.50 each
When YouOrder 2 orMore Plus
FREE SHIPPING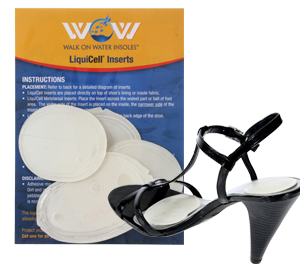 Read what customers are saying about our Ergo21 Insoles:
"The insoles are fantastic. I don't feel tired any more. My wife, a nurse loves them too. She doesn't leave home without them!"
— Sam, Newport Beach, CA
"As a part of my job, I spend countless hours in my vehicle. My first experience with the [LiquiCell Seat Pad] was a road trip of 1,200 miles in 5 days, and the relief and comfort from the pad were remarkable. Since then, I have traveled close to 10,000 miles and can honestly say that I would not leave home without it."
— Jon, Tustin, CA
"I love the insoles! Not only can I walk longer, but they prevent foot cramps when I am driving. The LiquiCell in the insoles is at just the right places at the ball and heel of my foot. It makes a tremendous difference!"
— Laura P.
"I've been a runner for most of my life, but just started running longer distance races in the last few years, including my first marathon last year. I'm currently training for my second marathon and have started using the LiquiCell insoles in my running shoes. I'm very pleased with their performance! By replacing my insoles with the LiquiCell insoles, I've gotten more comfort without compromising cushioning and shock absorption. In fact, I ran a half marathon last weekend and didn't experience any issues with shin splints as I had in the past."
— Melanie, Bloomington, MN
"I'm on my feet all day long and over the years I've tried different insoles and orthotics, but your insoles with LiquiCell are simply the best. So thin yet so effective. I also use your LiquiCell inserts for some of my tighter dress shoes. Thanks for making such an innovative product."
— Gary, Los Angeles, CA
"I have so many dress shoes and sandals that I was not wearing. They looked good but were uncomfortable, and some hurt. With the LiquiCell Shoe Inserts I can wear them all day long! Ingenious!"
— Kathy, CA
"I can now wear my fashionable shoes without any discomfort. LiquiCell Shoe Inserts don't make my shoes tight. They work! Unbelievable!"
— Laura, VA
"I love my dance practice and ballet class. I have the LiquiCell Shoe Inserts in all my shoes!"
— Ashley, CA
"I used the inserts in my heels at ETAA in Vegas and I have to say — no blisters and my feet recovered very quickly! So I would say they were a success. My husband has had your inserts in his work boots and says they're great…. Thanks again!"
— Kristin, CA