LiquiCell Technology in Aid of Pressure Sores, Sciatica, Hip, Leg Pain – ERGO21 Seat Cushions
Four Ultra – thin cells are hand stitched and strategically placed on top of High Resilience foam to reduce vertical pressure on the sitting bones and thighs.
Blood Flow Improved 150% –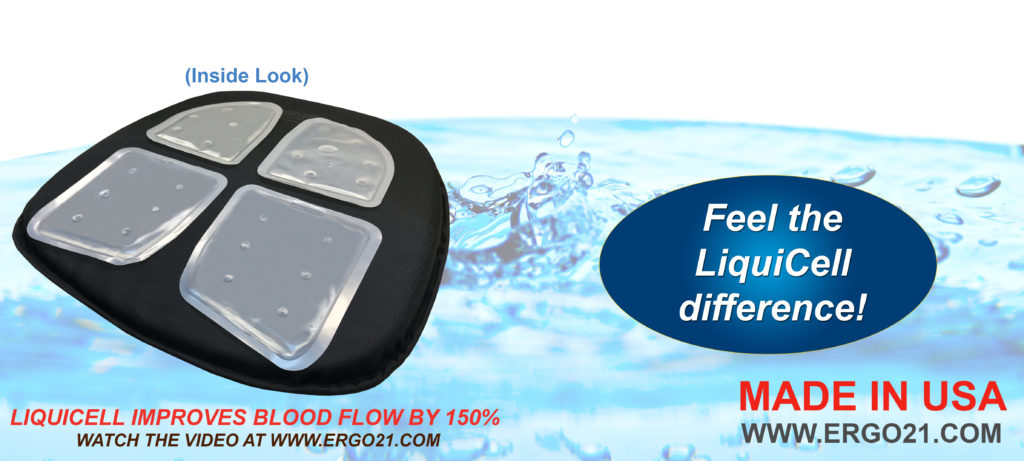 The Ergo21 Lumbar or the back cushion absorbs all the road vibrations and is extremely comfortable on a recliners or sofas for hours of sports or watching your favorite television shows. You can also take these cushions to ball games, concerts, restaurants and concerts.
Elderly and seniors, baby boomers and older adults  who travel will also benefit from these cushions. Whether you are driving RV's, cars, trucks, boats use the cushion for pain relief.
Uber drivers, bus Drivers and people who drive even short distances love our Combo Cushion bundle of Ergo21 Original or Sports Cushion with the Large Lumbar back cushion.
Here is what Kevin Cruikshank has to say:
How does Ergo21 Seat Cushion Help Kevin?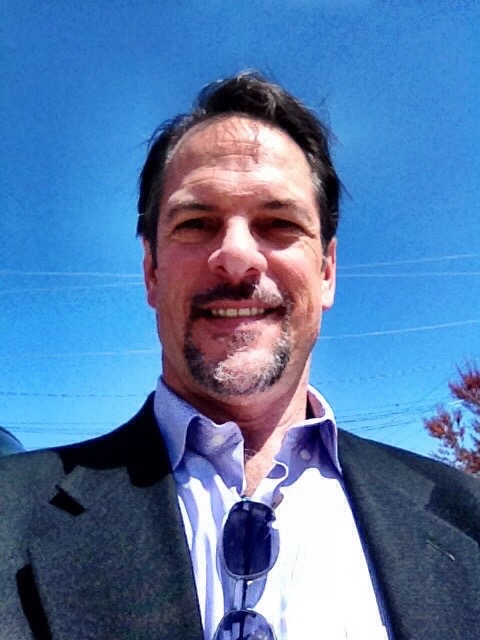 "The feeling of floating on top of my car seat keeps me focused, in the moment, for much longer periods. I know it's time to quit when I start to space out, never from butt or back aches. Ergo 21 Seat Cushion has helped Kevin Cruikshank in so many ways: increased focus, no more back or butt pain, longer driving hours, greater comfort, and higher productivity. Kevin recommends Ergo 21 Seat Cushions to everyone who drives.
Watch the Cushions in Actions! – A short Video
Which Cushion should I buy – A short Video
Ergo21 Seat Cushions – Made in USA
Ergo21 Cushions are designed at our CA beautiful facility here in Newport Beach, California and are made here in the USA in Los Angeles, The Foam was carefully chosen and formulated in the USA to our specifications from nineteen different densities. It is soft yet firm and designed to support you without flattening.
Below is a picture that shows how the Liquid-filled membranes work to keep the soreness and pressure in check:

Ergo21 Seat Cushions come in Small, Medium, Large and Extra Large sizes
Our Cushions come in varied sizes and shapes to accommodate all body types and weight,
Construction
We use Micro Stretch Fabric on top that moves with the body to prevent skin friction and protects the sensitive capillaries from being stretched and torn. For the bottom we use a strong Teslan fabric with a non-stick material that keeps them in place.
Reviews on Amazon:
5.0 out of 5 stars It made our seat so much better, I didnt have the leg pain or swelling …
By kelly light
I got this seat cushion and put it in my car, shortly after we made an 800 mile trip, My husband and I switched off driving and both of us said we wouldnt have made it without the cushion, It made our seat so much better, I didnt have the leg pain or swelling I normally have with long drives, I use it every day!
5.0 out of 5 stars  Relieves back pain and discomfort!!!!
I won this cushion a few months ago and I use it every day in my computer chair. I cannot believe the difference it has made with my back pain. Now I can sit without discomfort or pain. I would not use any other cushion!!
5.0 out of 5 stars Fix for lower back and sciatica pain – LOVE IT!
I was skeptical. But I've had one of the larger cushions on my recliner for years, and I have to say these cushions are amazing at relieving my lower back pain (disk issues) and intermittent sciatica. I got this model for my car, and the relief is remarkable. I wish I had gotten it 100,000 miles ago! The sciatica pain is gone, even on long trips. My cars already have good lumbar support, but the back pain truly vanished with this cushion. Recently I rented a car on a trip and my issues returned. Couldn't wait to get home – it works!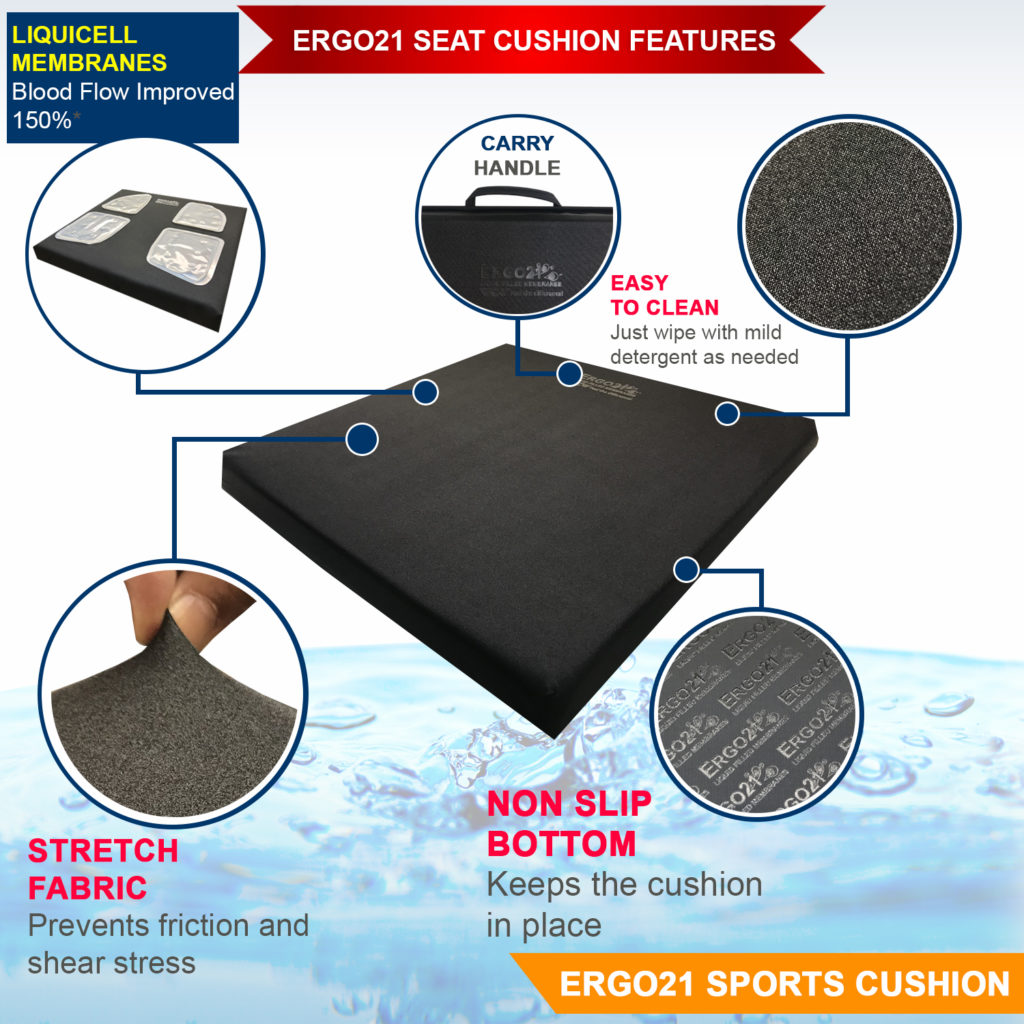 Choose from our Complete line of Seat Cushions
After careful research and looking at all the cushions available out there we realized there is no one cushion solution for all types.
We have four models and a Bicycle Seat Cushion cover as well.
Every model helps with Sciatica, reduces fatigue and tail burn, buttock, hip and leg pain.
How can a 200 or 300 lbs. individual sit on a 15 or 16-inch cushion. It will cut off the circulation under the thighs and outer edge of the buttocks. That's why our Ergo21 Sports Cushion and Coccyx Cushion with a cut out for sensitive tail bone issues comes in four sizes.
And our Ergo21 Coccyx cushion has a unique design. It can be turned around and used as a regular cushion as well.
Our Ergo21 Lumbar or back Cushion also comes in two sizes. The small one is good for small back wheelchairs or low back chairs and the Large is great in Cars, Trucks, buses, recliners and sofas.
Ergo21 Lumbar Cushion Video: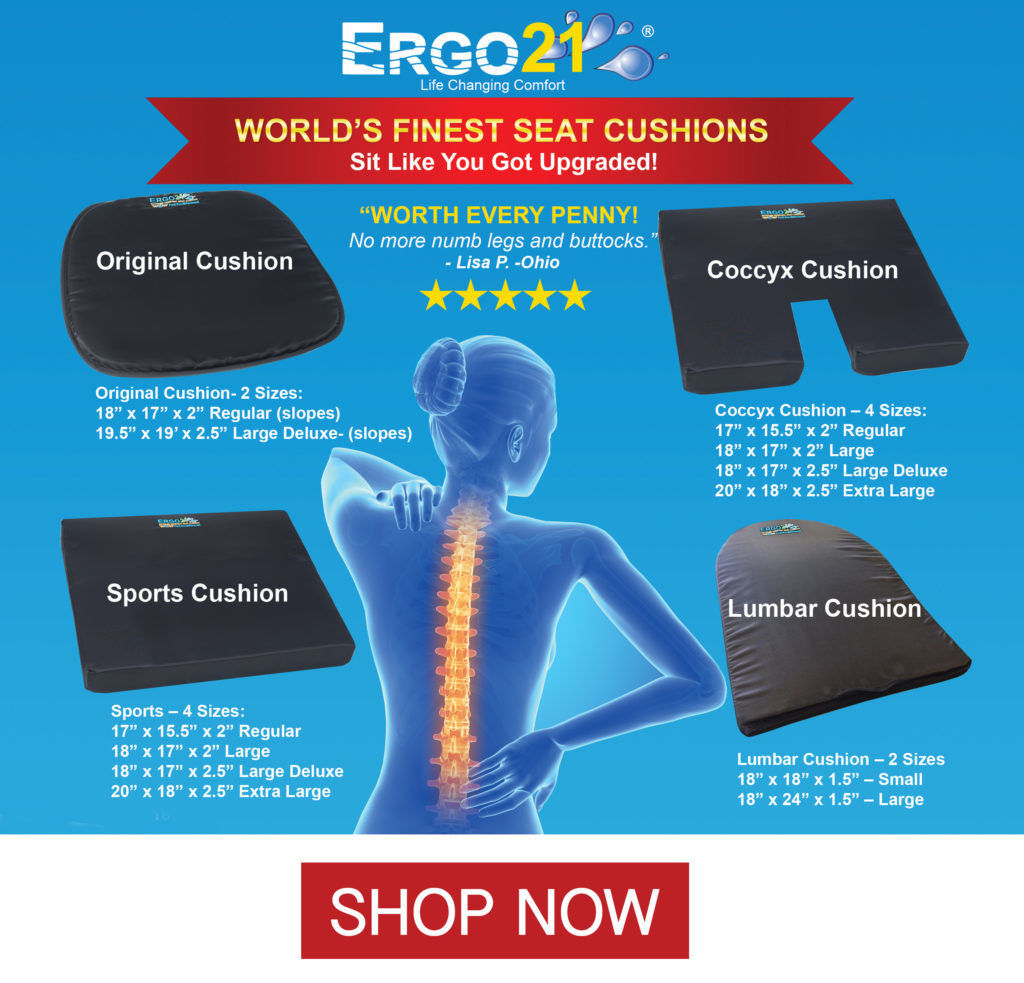 In Conclusion
Elderly and Seniors have special needs. Often, they can't help but sit for long periods of time because of disability or unavoidable limited mobility due to knee, hip or Spinal Stenosis and other symptoms or other older adults develop skin sores from lack of movement.
We highly recommend these individuals seek proper diagnosis from a trained doctor who can treat these symptoms in combination of devices such as our cushions.
Ergo21 Wheelchair Cushion – Watch Video
Our Cushions use the LiquiCell Technology that improves blood flow and circulation. They are better than Gel, Foam or air alone. Be sure to check out the LiquiCell Technology Video.
Testimonials:
5.0 out of 5 stars fits perfect SUPER hard to find right size anywhere else
Size: Extra Large – 20″ x 18″ x 2.5″|Verified Purchase
I cannot give you enough stars, fits perfect SUPER hard to find right size anywhere else, you had perfect size, perfect comfort. TOTALLY LOVE IT!!!!
5.0 out of 5 stars Thick for a reason
Size: Extra Large – 20″ x 18″ x 2.5″
I've had many seat cushions over the years. The common flaw among most is that they simply aren't thick enough to provide the proper amount of support and comfort. This cushion achieves the perfect balance of being thick enough yet portable enough for you to carry everywhere, delivering the most comfort you can possible get in a cushion. It's also the right amount of squishy, it doesn't flatten out easily nor is it too firm. I prefer this style of cushion over the memory foam types because those generate more heat and lose form over time. Overall this cushion was definitely money worth spent given the amount of time I use it (who doesn't sit down at least once a day!)
5.0 out of 5 stars NOTHING ELSE COMPARES
Bike Cushion By joel kim
I was in agony and this was with a padded seat cushion
I don`t understand how Schwinn designs there seats, I think they design a bunch of them and pick the one that causes the most pain. I was ready to stop riding, then I read about the Ergo 21,Long story short,I tried it and am amazed at the comfort. I can actually walk when I get off the bike. Completely satisfied with the results.
5.0 out of 5 stars Relief at last!
By susan
This is the most amazing cushion! A lower back injury and many surgeries have made it extremely difficult for me to sit for any length of time without a LOT of pain. Sooo glad I decided to try the Ergo21 in place of the usual cheapie cushions that are certainly not made for large German women. These are top quality, providing continuous pain relief and have given me the ability to actually relax once again. I got this one for my office and another of it for the car…awesome product!
5.0 out of 5 stars AMAZING COMPANY AND PRODUCTS!!!
November 29, 2015
Size: 36″ x 36″ x 1/8″
I have had a total hip replacement done and have tried EVERYTHING to try to make it possible for me to sleep without pain. Didn't think I would ever find anything that would work… Then I found this AMAZING COMPANY!!! I bought 2 pads to cover my whole side of the bed. Worth every penny!!!! The pads look thin but make a WORLD OF DIFFERENCE!!! They are truly amazing!! Would HIGHLY RECOMMEND!!!!! And the company is so wonderful. I've never had such GREAT CUSTOMER SERVICE!!! I also own 2 seat covers for my car and the pillow case! LOVE ALL OF THEM!!! I bought these… This IS NOT A review for free products.
Steve Gambhir – Designer of Ergo 21 Extreme Comfort Seat Cushions – Finally a way to sit or drive for hours in comfort!
Steve's Interests:
Yoga & Meditation
Long walks by the beach
Member of and BNI International
Took acting, comedy and improv at the Orange Coast College for 3 years
Performed at 250 shows at various clubs including Irvine Improv
Acted in one independent movie – but did not want to quit his day job ☺
Currently writing for Health & Fitness blog at
Lifechangingtip.org
Steve Gambhir is also a Health and Wellness Coach who is passionate about food, nutrition and general fitness. Steve is dedicated to helping everyone he meets live happier, healthier, more fulfilling lives.
In addition to being active in his southern California community of Newport Beach, Steve also founded
Ergo21
"Tools for Health and Fitness," and the blog
Lifechangingtip.org
which provides guidelines for healthy living.
His Ergo21 Extreme Comfort Seat Cushions and Insoles are available at
Ergo21
and have helped thousands to be on their feet all day long and sit in comfort for long periods of time.
His following articles have helped many regain their health and have gotten a great response from doctors and health professionals:
FOOD COMBINATION – WHY YOUR STOMACH HURTS AFTER YOU EAT…
HOW I LOST 32 POUNDS…
Ergo 21 – Shakti Inc.
4 Park Newport, Suite 4
Newport Beach, CA 92660
(Below the clock tower, next to the Park Newport Market)
949-975-8219
Mobile: 949-795-9066

Latest posts by Steve Gambhir (see all)